The airdrop of ARB, Arbitrum's native token, in May 2023 was one of the most anticipated events in the crypto community. It attracted a lot of interest from investors as well as traction within the general public, helping it solidify itself in the top 50 cryptocurrencies shortly afterwards.
Two months since then, the general hype has gone down together with the price of ARB, which is currently sitting below its initial level. Now, with such volatility in price and investor interest, many are wondering – is Arbitrum actually a good investment?
In this article, we will explore what Arbitrum is, where it may be headed in the future and if ARB may be worth considering adding to your crypto portfolio.
So, let's start with the basics. 👇
What is Arbitrum (ARB)?
Arbitrum is a Layer 2 scaling solution for Ethereum that aims to solve the issues of network congestion and high gas fees. It achieves this by allowing users to conduct transactions off-chain, which are then verified and settled on the Ethereum mainnet.
How does Arbitrum work?
Arbitrum uses a technology called Optimistic Rollup, which allows for high throughput and low transaction fees. When a user initiates a transaction on Arbitrum, it is processed off-chain and validated by a network of validators. Once validated, the transaction is then settled on the Ethereum mainnet.
Though there are other blockchains using rollups, Arbitrum uses a proprietary technology stack called Nitro. It offers 7 times more throughput than the Ethereum network without compromising network security.
Who is the creator of Arbitrum?
Arbitrum was created by Offchain Labs – a blockchain research and development company aiming to create secure, scalable and usable blockchain systems.
The company was founded in 2018 by a team of experienced developers, scientists and entrepreneurs in the blockchain space.
What is ARB?
ARB is the native token of Arbitrum and is used to pay transaction fees on the network. Users can also stake ARB to become validators on the network and earn rewards for validating transactions.
How is ARB used within Arbitrum?
Users must hold and pay some amount of ARB to make transactions on the Arbitrum network. Validators on the network also need to stake ARB in order to participate in the validation process and earn rewards.
Investment analysis of ARB
Historical price of ARB
Shortly after tts launch, ARB was trading around the $1.3 mark shortly after the airdrop. The price has decreased gradually in the following weeks, dipping below $1.18 before experiencing a surge in mid-April.
After peaking at around $1.7, ARB has been going down in price ever since, following the overall market trend.
As of May 10th, ARB is trading at $1.1 level.
ARB technical analysis
As of writing of this article, the market capitalization of ARB is $1,430,634,581, making it the 37th biggest cryptocurrency on the market. Its circulating supply is $1,275 billion and its daily trading volum sits at $287,654,068.
While this may seem small compared to the top currencies, you must remember that Arbitrum is still a new token with a lot of potential for growth.
Comparison of ARB to other cryptocurrencies
When compared to other Layer 2 scaling solutions for Ethereum, such as Polygon (MATIC) and Optimism (OP), ARB is a relatively new player in the market. Despite that, it has already managed to overtake Optimism (77th by market cap), though not quite reaching Polygon (10th by market cap).
You can see a more detailed comparison of these 3 Ethereum scaling solutions in the table below.
And while market cap is important to compare the overall value of different protocols, TVL is a parameter that shows how much they are actually used.
As you can see from the table below, Arbitrum has already overtaken both its main competitors by a significant amount. Arbitrum's $2,4 billion TVL is considerably higher than the collective TVL of Polygon and Optimism.
Factors that Can Impact the Price Prediction of ARB
Various factors can affect the price prediction of ARB, some of which are outside the control of the Arbitrum team. Here are some of the most significant ones:
1. Growth of Decentralized Finance (DeFi)
The growth of decentralized finance (DeFi) has been one of the main drivers of the crypto market. ARB is an important player in the DeFi ecosystem as it facilitates fast, secure, and cost-effective transactions, making it a suitable platform for developers to build decentralized applications (dApps) on.
2. Increased Adoption of Ethereum
Ethereum is the most widely used platform for decentralized applications and smart contracts. As a layer-two scaling solution built on top of Ethereum, Arbitrum's success is closely tied to Ethereum's adoption. Because of that, any significant developments or changes on the Ethereum network can and will impact the price of ARB.
3. Technological Advancements and Upgrades
Technological advancements and upgrades can have a significant impact on the price of ARB. As Offchain Labs continues to work on improving the functionality and efficiency of Arbitrum, the price of ARB may increase as a result.
4. Regulation and Legal Issues
The regulatory environment around cryptocurrencies is constantly evolving, and regulatory actions can have a significant impact on the price of ARB. Any restrictions on crypto trading or increased taxation can negatively impact the price of ARB.
Overall, while these factors can affect ARB's price, it is important to remember that cryptocurrency prices are generally quite volatile and unpredictable. Make sure to always exercise caution and DYOR before investing into any crypto assets.
ARB Price Predictions
Now that we analyzed the historical price of ARB as well as its current standing on the market, we can look at some predictions about its future price. However, it's important to keep in mind that these predictions are based on current information and are subject to change as new developments emerge.

Short-term ARB price predictions
In the short term, ARB's price is likely to be influenced by market sentiment and the overall performance of the cryptocurrency market.
According to BTCC Academy, Arbitrum may reach a price of $1.95 by the end of 2023, with a minimum of $1.78 and a maximum of $2.32.
Priceprediction.net estimates a lower performance of ARB, falling to $1.58 in 2023.
DigitalCoinPrice, on the other hand, is more optimistic and names $2.41 as the average price for ARB by the end of 2023.
Medium-term ARB price predictions
Arbitrum is a very young crypto project, but it has already attracted significant developer activity and investor support. Given these factors, it is in a good position to realize its full potential in the years to come, especially given the predicted growth of the DeFi sector.
BTCC Academy predicts an average price of $6.72 by 2025., with a minimum of $5.76 and a maximum of $7.28.
Priceprediction.net is, again, slightly less optimistic about Arbitrum, estimating its average price to be $3.30 in 2025, with a minimum of $3.18 and a maximum of $3.95.
DigitalCoinPrice predicts an average price of $3.94 for ARB by 2025, with its value ranging between $3.31 and $4.08.
Long-term ARB price predictions
In the long term, the future of ARB depends on different factors such as its adoption rate, regulatory developments, and competition from other blockchain platforms. If ARB is widely adopted and becomes the go-to solution for DeFi transactions, its price could skyrocket. However, if it fails to gain traction or faces significant competition, its price may suffer.
For the distant year of 2030, BTCC predicts ARB to reach an average price of $11.69.
Priceprediction.com has a more bullish long-term outlook for ARB, estimating its price to reach a whopping average of $21.55 in 2030.
Finally, DigitalCoinPrice names the price of $11.48 as their average guess for 2030.
Potential risks and challenges to predictions
Competition is an important consideration when it comes to the price of ARB. Though it is a promising project, there is always a chance that a strong new competitor emerges with better technology or a more user-friendly platform. Such development could significantly impact ARB's adoption rate and ultimately its price.
It is also important to note that having its main use case in scaling the Ethereum network, ARB is also significantly dependent on Ethereum's success.
Is ARB a good investment?
After examining the various factors that may impact ARB's price and its potential as an investment opportunity, the question remains: should you invest in ARB?
Pros and cons of investing in ARB
On the one hand, ARB offers a unique solution for scaling Ethereum and improving DeFi transactions, which could lead to increased adoption and subsequently, a higher demand for ARB. Additionally, due to being a young crypto project, it still has potential to grow and reach a much higher market capitalization, similarly to Polygon.
However, investing in ARB also comes with risks, such as its dependence on the Ethereum's adoption and future success . Additionally, ARB its development team still needs to pass the test of time and compete with not only the existing competitors, but any potential future ones.
How to invest in ARB
There is a multitude of different ways to buy ARB token, but we strongly recommend you check out Guardarian.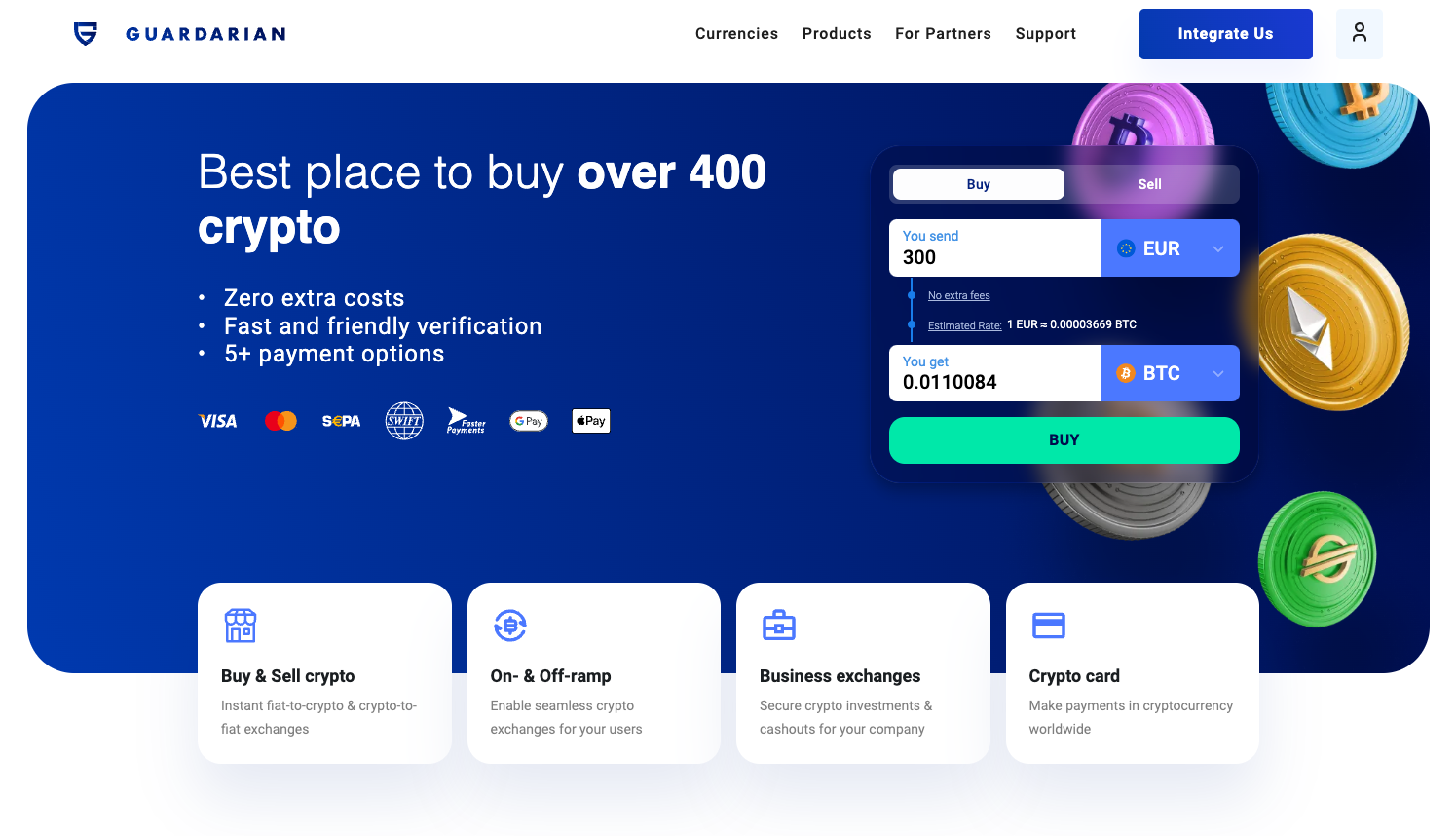 With us you can buy ARB & 400+ other cryptocurrencies securely and without registration – the entire process takes only a couple of minutes. You can also pay with over 40 different fiat currencies and use any major payment method, such as bank cards, bank transactions or Google Pay.
Simply follow these easy steps:
Go to www.guardarian.com.

Select your crypto of choice & the amount required, then press "Buy".

Enter your desired wallet address & choose your payment method.

Complete our fast checkout process – no registration needed.

Check your wallet & we hope to see you soon!
Conclusion
Arbitrum, together with its token, ARB, offer a unique solution for scaling Ethereum and improving DeFi transactions. It is an interesting project with a great deal of potential, which it is yet to realize fully and an optimistic outlook for its area of use – the DeFi sector.
However, investing in ARB comes with risks, such as market volatility dependence on the Ethereum blockchain and future competition.
Make sure to follow our socials to stay up to dates with the latest crypto news and visit our website for the best crypto deals on the market. ✨