The 2023 Meme Season has officially started, with a multitude of new tokens popping up out of nowhere, in hopes of becoming the next big thing. For instance, you might have heard of Pepe Coin taking the crypto market by storm and reaching the Top 50 in a matter of weeks.
So, we thought now would be the right time to make a list of what we think may be the best meme coins to invest in right now. This includes both the established tokens as well as some upcoming ones.
So, let's quickly cover some basics and get on with our top list. 👇
What are meme coins?
Meme coins are cryptocurrencies that are based on internet memes or pop culture references. They often have unique branding, logos, and marketing strategies that appeal to a younger audience.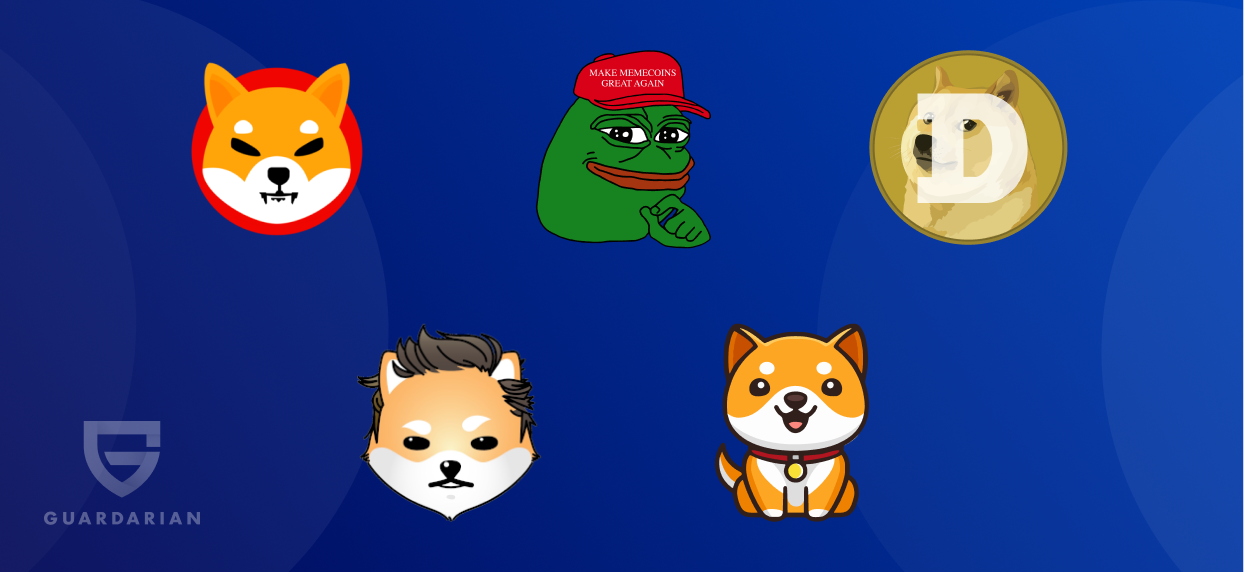 Meme coins are a stark contrast to traditional cryptocurrencies like Bitcoin or Ethereum, which offer unique use cases and have a more serious, long-term investment appeal.
Why invest in meme coins?
Meme coins are what your call a high-risk investment due to being highly speculative and generally have no intrinsic value.
At the same time, meme coins have the potential to grow significantly in a short period of time. This makes them an attractive option for many investors looking for quick gains.
Of course, some people invest into meme tokens simply out of appreciation for what they represent – whether that's a particular meme, cultural reference etc.
Best meme coins to invest in
Let's now go over some examples of meme coins that we believe are worth checking out in 2023.
Dogelon Mars (ELON)
Dogelon Mars is a relatively new meme coin that gained massive popularity in 2021. It was created as a parody of Elon Musk's fascination with space exploration. This is evident from its name – a mix of Dogecoin and Elon Musk.

ELON does not offer any particular utility and has mainly gained popularity due to its imagery, NFT comic series, community activity and, of course, relation to the CEO of SpaceX.
Current status of Dogelon Mars
As of May 2023, ELON is ranked 185th on CoinMarketCap with its market cap sitting at $116,924,544. It has a growing community of supporters, and its price is highly influenced by social media activity. As such, ELON's daily volume is currently $2,473,900 and its price is $0.0000002128.
Dogelon Mars is currently ranked among the top 200 cryptocurrencies by market cap. It has a growing community of supporters, and its price is highly influenced by social media hype.
Pros and cons of investing in Dogelon Mars
Pros:

Dogelon Mars is a relatively new meme coin, which means that it still has potential for price appreciation. It has an active community and is capable of riding the hype wave, when such a wave occurs. ELON also has a low entry barrier for investment due to its low price.

Cons:

Dogelon Mars is considered a highly volatile investment and is does not have any roadmap for the future, which makes it even more risky and speculative.
Shiba Inu (SHIB)
Shiba Inu is another popular meme coin that gained massive popularity in 2021. It was created in 2020 and is named after the Shiba Inu dog breed and is commonly known as the most prominent "Dogecoin killer".

SHIB was created in August 2020 by an anonymous developer known as Ryoshi. It gained significant popularity in 2021, mainly due to social media hype.
Current status of Shiba Inu
Shiba Inu is currently ranked as the 15th top cryptocurrency by market cap ($5,086,387,257). The price of SHIB is currently $0.000008654 and its daily volume is around $131,007,105.
Unlike Dogelon Mars, Shiba Inu has built possibly the biggest ecosystem among all meme coins and includes:
3 different tokens, SHIB, BONE and LEASH, providing means of payment and governance and offering exclusive perks for the community.

Shibarium, Shiba's own blockchain network.

Shiba Eternity mobile game on Apple and Android devices.

"The Shiboshis" NFT collection on the OpenSea market.

Shib The Metaverse, an immersive virtual experience.
Pros and cons of investing in Shiba Inu
Pros:

Shiba Inu has a highly developed and growing ecosystem and a very active community. It is also one of the most established meme coins on the market with plans for future development, which makes many investors swear by SHIB's growth potential.

Cons:

Regardless of its developments, Shiba Inu is still highly reliant on the social media hype and is rather volatile, so it is important to
Dogecoin (DOGE)
Dogecoin is the original and most well-known meme coin on the market. It was created in 2013 by an IT engineer Billy Markus as a parody of Bitcoin.

Its mascot is the Shiba Inu dog, which became popular on the internet as a meme. Dogecoin gained significant popularity long before the other meme coin on this list, which skyrocketed in 2021 due to Elon Musk tweeting about it.
Current status of Dogecoin
DOGE is currently the only meme coin in the top 10 cryptocurrencies by market cap, sitting at number 8 with a market cap of $9,990,415,656. DOGE has a daily volume of $407,862,916 and a price of $0.0717.
Dogecoin received a lot of attention from Elon Musk in previous years and has even functioned as the official logo of Twitter in April 2023. It is also often used as a means of value transfer due to the low transaction costs of its blockchain network.
Pros and cons of investing in Dogecoin
Pros:

Dogecoin has a massive community with many loyal supporters. DOGE has a high level of liquidity, which supports its high activity and availability on all major exchanges. It has also withstood the test of time, not only surviving the ups and downs of the crypto market for years, but ending up in the top 10 currencies.

Cons:

Though it has some projects in development to help increase adoption, Dogecoin does not offer significant functionality beyond using it as a means of value transfer or as a speculative investment opportunity.
Baby Doge Coin (BABYDOGE)
Baby Doge Coin is another dog-related meme coin that has gained popularity in recent years. It is a spinoff of Dogecoin using its meme appeal and charity initiatives to generate traction on social media.

BABYDOGE was created in June 2021 and quickly gained popularity on social media, mostly due to Elon Musks tweets – no surprises here. BABYDOGE mascot is a cartoonish dog inspired by Dogecoin's famous Shiba Inu.
Current status of Baby Doge Coin
BABYDOGE is currently trading at around $0.000000002256. Baby Doge Coin is available on several popular cryptocurrency exchanges and has a daily trading volume of $10,659,756. Its current market cap is $346,138,192, making it the 218th biggest cryptocurrency on the market.
Baby Doge Coin is a community-oriented project that is aiming to make an impact through donating to dog-related charities, with over $750,000 donated so far and more donations planned in the future.
Pros and cons of investing in Baby Doge Coin
Pros:

BABYDOGE enjoys strong community support and media attention. It has shown its ability to soar during social media hype periods and has made a name for itself as one of the most helpful crypto projects due to its charity donations. All this makes many investors believe in its potential as a short-term investment.

Cons:

BABYDOGE is a highly volatile token that does not offer solid use cases, making it a very speculative investment choice.
Pepe (PEPE)
PEPE is a meme coin based on the Pepe the Frog meme, launched on Ethereum. It aims to establish itself as one of the top meme-based cryptos by appealing to the cryptocurrency community with its no-tax policy, redistributive system, and burning mechanism.

During a memecoin season in late April to May 2023, PEPE's market cap reached an all-time high of $1.6 billion, creating a few new millionaires and attracting a large community of fans and followers. 
Current status of Baby Doge Coin
After taking the crypto market by storm, PEPE has fallen to 79th position with its current market cap of $495,442,699. It boasts a whopping $773,399,074 of daily volume due and is trading at about $0.000001264.
PEPE's almost overnight success is unprecedented in the meme coin space, making it the most talked about crypto in May 2023. Regardless, it is also the most speculative entry to our list, publicly stating that it has no intrinsic value, expectations, formal team or roadmap.
Pros and cons of investing in Pepe
Pros:

Due to its use of Pepe the Frog as its mascot, PEPE represents something familiar to people far beyond the realms of crypto and blockchains. With its media attention and meme appeal, it has a strong potential to give high short-term returns on investment.

Cons:

PEPE is also an extremely risky and speculative investment, with a misty long-term future without any use cases or roadmaps. We recommend utmost caution when considering investing into PEPE.
Factors to Consider When Investing in Meme Coins
Meme coins can be highly volatile, with prices changing rapidly in response to market trends and social media buzz. As such, there are a couple of important factors to consider when investing in these.
Market trends and volatility
Meme coins are often heavily influenced by market trends and sentiment. We recommend to always keep your eye on the broader crypto market and how it may impact the value of meme coins. Meme coins are also prone to price spikes and drops, so you must be prepared for such volatility levels.
Community and social media hype
Community and social media hype can play an important role in the success of meme coins. A strong community can help to promote a coin and increase its value. Negative sentiment can quickly drop its price. Always check the community and the media presence of a meme coin you want to invest in.
Developer activity and innovation
Developer activity and innovation are important for the long-term success of any cryptocurrency. But meme coins often offer neither of these things. This may be fine for a short-term investment, but if you are looking for a long-term one – consider where a token may end up by passively riding the wave of media attention and market movements.
Security and risk assessment
Meme coins can be a target for hackers and scammers, so it is important to assess the security measures in place to protect your investment. Though it is often not possible, try to look for assets with better security protocols and pay extra attention while trading risky assets.
Where to buy meme coins?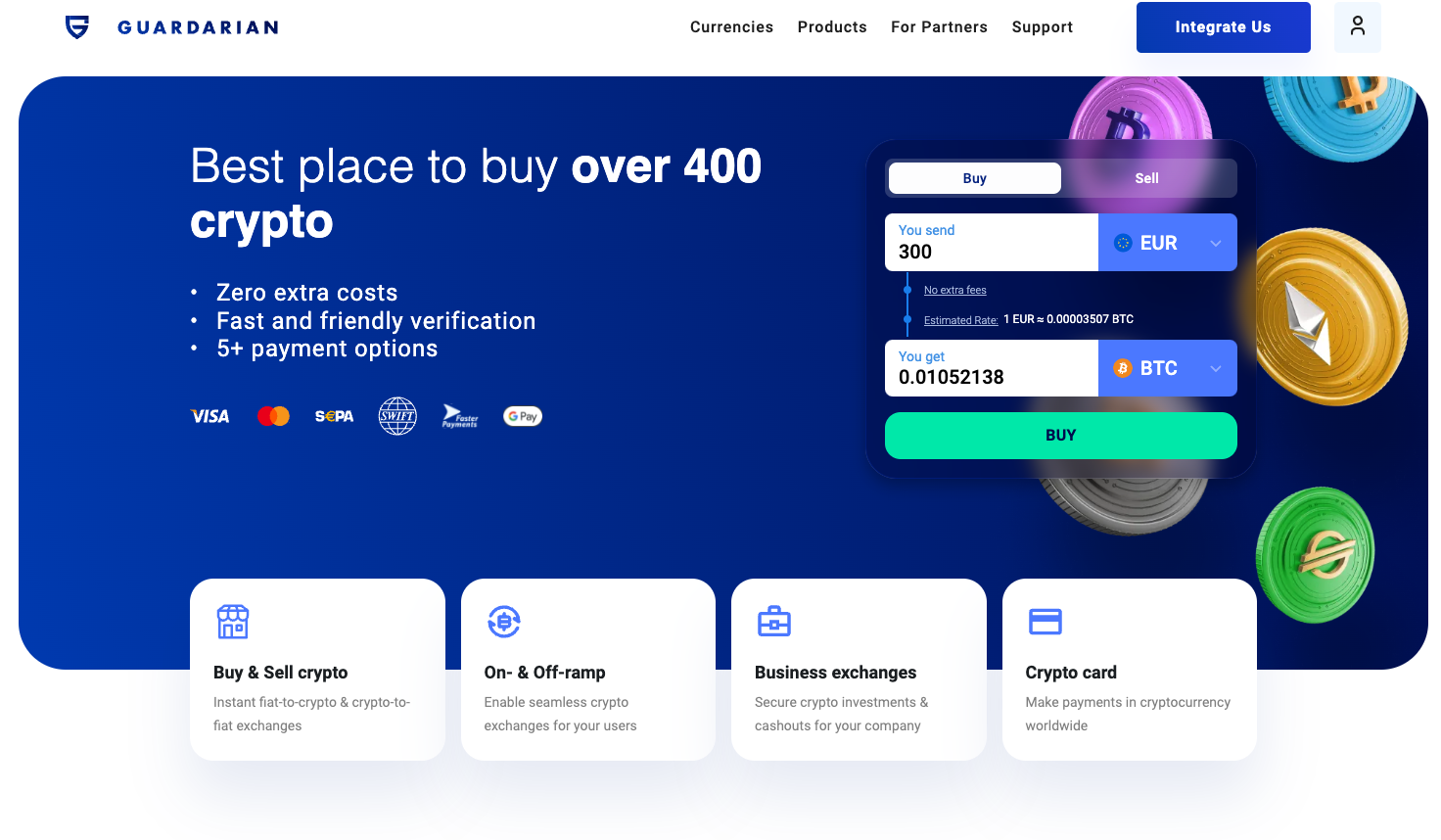 If you are looking for a reliable exchange to invest into any of the coins mentioned above, or 400+ other altcoins – make sure to check out Guardarian.
With us you can buy your favorite crypto fast, securely and without registration.
Here's how to get your assets in minutes:
Go to

www.guardarian.com

.

Select your cryptocurrency of choice & the required amount, then press "Buy".

Enter your wallet address & choose your preferred payment method.

Complete the fast & intuitive checkout process –

no registration needed

.

Check your wallet & we hope to see you soon! 😉
Conclusion
Investing in meme coins can be a high-risk, high-reward endeavor. While there is no guarantee of success, there are several meme coins that have shown promise in recent years, including Dogecoin, Shiba Inu, Dogelon Mars, Baby Doge Coin and Pepe.
When investing in meme coins, always consider the market trends, community and social media hype, and potential security risks. By evaluating these factors you can make more informed decisions and potentially capitalize on the growing popularity of meme coins.
Make sure to visit www.guardarian.com for the best deals on popular meme coins as well as follow us on Twitter to stay up to date with the latest market trends and crypto developments. ✨
The information provided in this article is the author's opinion and not investment advice. There is always the risk of seeing your investment go down in value due to price fluctuations. Make sure your portfolio aligns with your investment objectives and risk tolerance by reviewing it regularly and investing only money you can afford to lose.