We have exciting news to share with you today!
We are happy to announce that we've added Google Pay as a new payment option on Guardarian! 🥳
You can now use Google Pay to buy over 400 cryptocurrencies on our exchange – securely and without registration.
Let's take a brief look at what it means and how it works.👇
What is Google Pay?
For those who are unfamiliar with Google Pay, it is a digital wallet platform that allows users to make online payments quickly and securely. You can link your credit or debit card to your Google Pay account, and use it to make purchases with just a few clicks.
It's a convenient and safe way to make payments online, and we are happy to offer this option to our users.
What are the limits for Google Pay?
Google Pay is perfect for those who want to make smaller transactions quickly and easily. At Guardarian you can use it with a daily limit of €35-€5,000 and a monthly limit of $15,000. We also support all major fiat currencies to make sure that everyone can pay in the way that is most comfortable to them.
In which countries is Google Pay supported?
You can use Google Pay for your crypto transactions on Guardarian in over 170 countries around the world, including the US. There are regions we don't yet cover, but we are working hard towards adding these as soon as possible. 😊
Check our FAQ page for the full list of supported countries. 
How can I buy crypto with Google Pay?
To use Google Pay on our website, simply choose it as your payment option at checkout.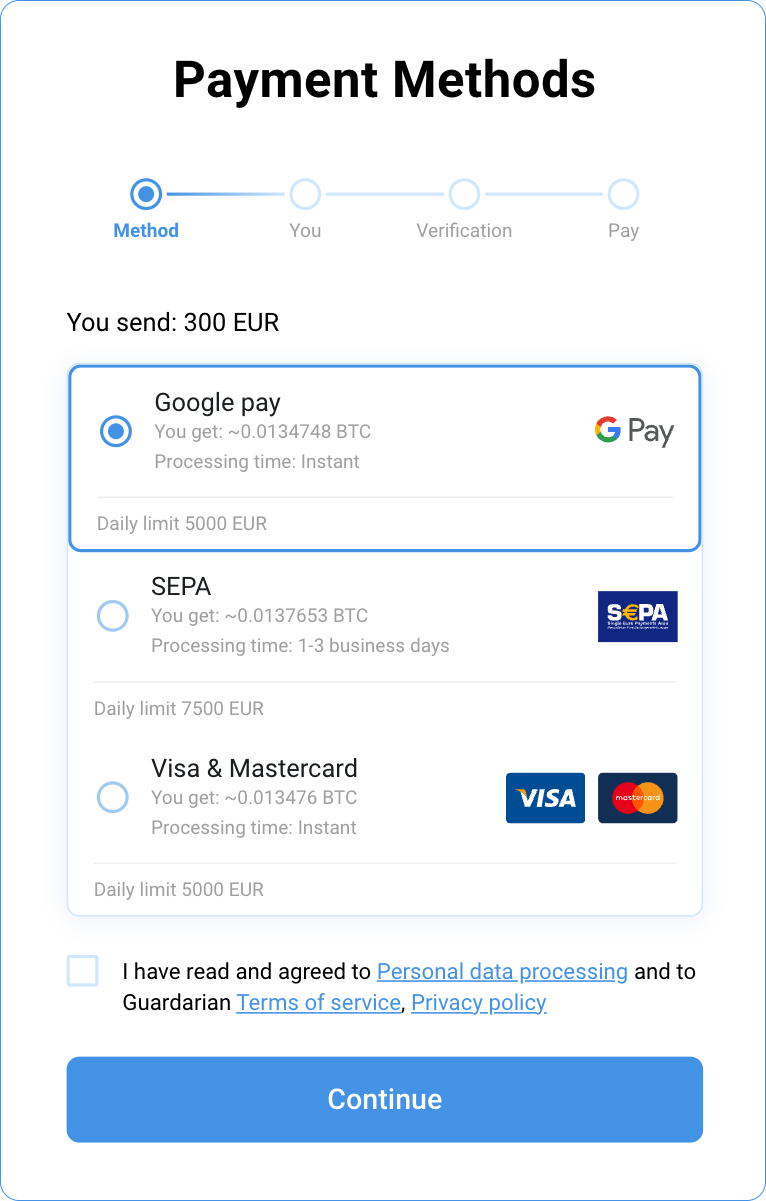 Then, during the payment step, a Google Pay pop-up will appear where you can either add a new card, or complete the payment with just one click.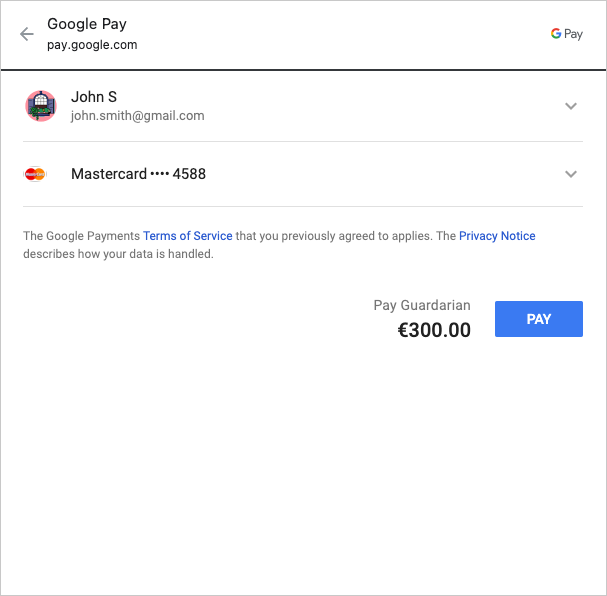 And don't worry, your information is safe and secure with Google Pay's advanced security features. 😉
Convenient crypto exchanges with Guardarian
We always strive to make our service as easy and seamless as possible, and we believe that the addition of Google Pay is a significant step in achieving that goal. In addition to Google Pay, we offer a wide range of other payment options, including debit and credit cards, bank transfers and more!
Be sure to follow us on social media to stay up to date with all the latest news and updates, and visit us at www.guardarian.com to start enjoying the most convenient crypto exchanges around! ✨