FUNToken is an integral part of the growing Web3 gaming industry, serving as a decentralized gaming solution that brings fairness, transparency, and enhanced player experiences to the forefront.
As FUN is increasingly adopted within a diverse range of games, the ability to convert FUN to USD quickly and cost-effectively becomes paramount for gamers and investors. Selling FUN for fiat currency offers users the opportunity to derive tangible value from their digital assets, making it easier to participate in the expanding world of Web3 gaming.
This guide offers a step-by-step guide on how to convert FUNToken to USD and discusses the unique advantages that make this digital asset a significant player in the crypto-gaming market.
Where to Convert FunToken to USD?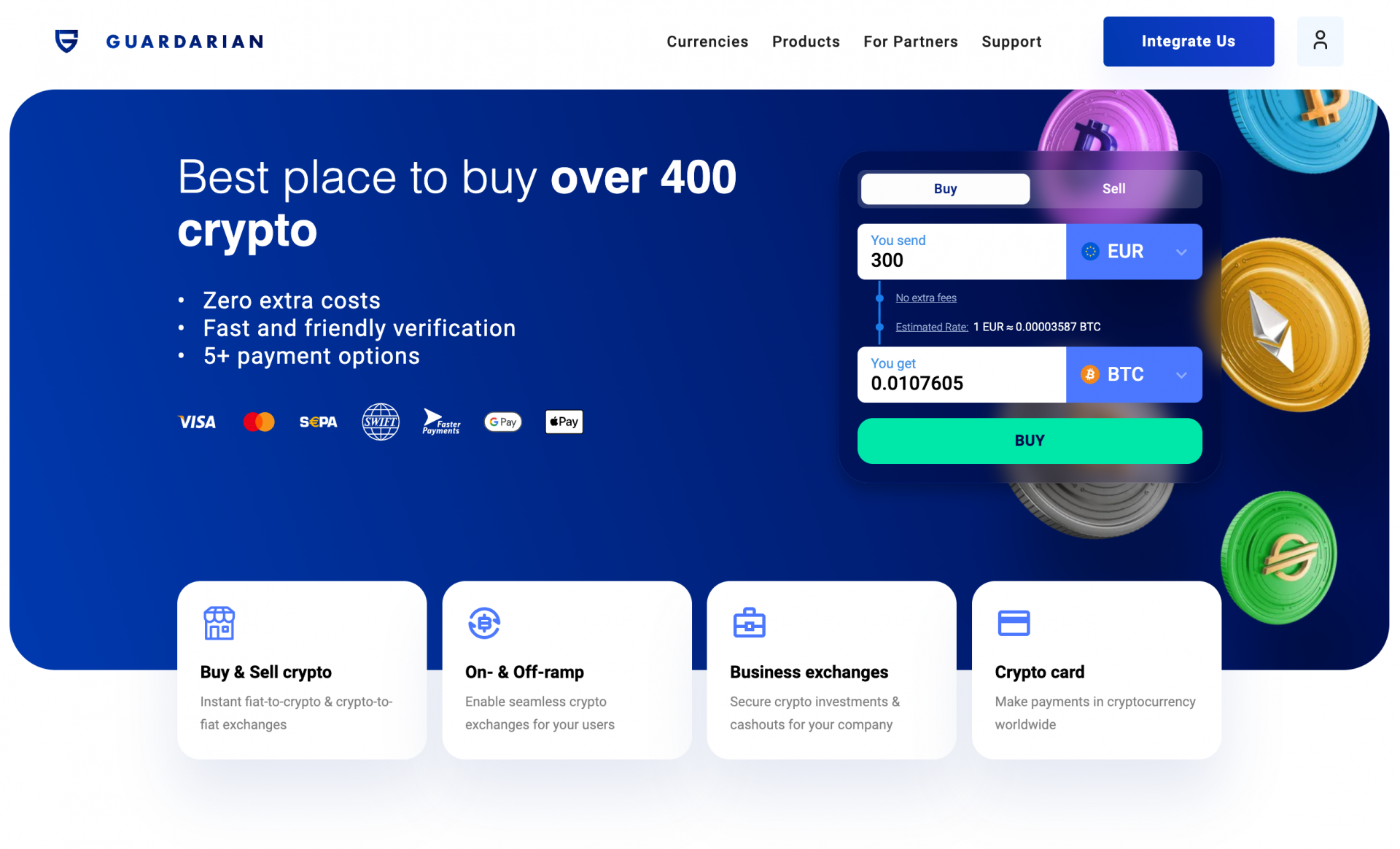 There are many platforms offering FUNToken to USD exchanges, but for the best rates and user experience we recommend you use Guardarian.
A fully licensed fiat-to-crypto on-ramp provider, Guardarian offers its users a fast & intuitive way to buy & sell over 400 different cryptos, including FUNToken.
You can use any major payment method, such as credit or debit card, bank transfer, Google Pay, Apple Pay among others.
Our platform is non-custodial, ensuring your complete control over your digital assets at all times. And to save your time, Guardarian does not require registration – the entire buying process is organised into a single intuitive flow.
How to Convert FunToken to USD?
Converting FUNToken to USD on Guardarian is fast and simple. Follow these easy steps: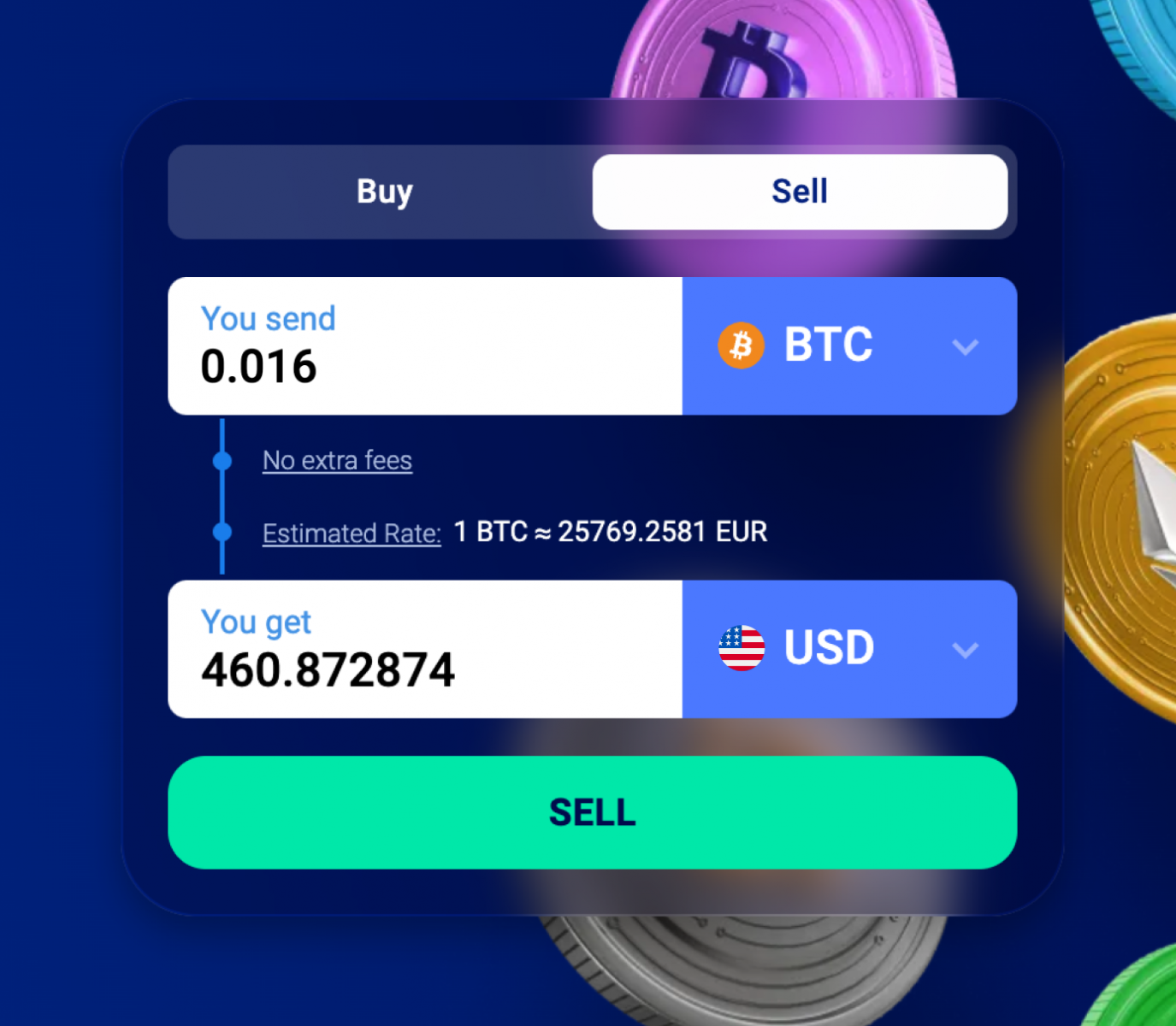 Step 1: Visit the Guardarian Website
Go to www.guardarian.com and switch to selling mode by pressing the "Sell" tab in the top right corner of our widget.
Step 2: Select the Currencies and Amount
Select FUNToken (FUN) from the 'You send' dropdown menu and USD in the 'You get' dropdown menu. Enter the amount of FUNToken you wish to convert, and click the "Sell" button.
Step 3: Choose Payment Method
Select how you want your funds transferred to you. The transfer methods may vary on the fiat currency you choose, but for USD, SWIFT transactions are usually used.
Step 4: Enter your bank details
Enter the details of the bank account you will use to receive your USD. If this is your first exchange, you will be asked to also provide your email address for security verification.
Step 5: Complete the Transaction
You'll be given a unique FUNToken address to send the funds to. As soon as this transfer will be processed, your USD will automatically be transferred to your bank account. The transfer times can vary depending on the bank you use, though we guarantee the fastest possible exchanges due to the automated, non-custodial nature of our platform.
By following these steps, you can convert FUNToken to USD securely and quickly, maintaining control of your assets throughout the process.
What is FunToken (FUN)?
FunToken (FUN) represents a crucial component in the digital transformation of the gaming industry. This Ethereum-based utility token is designed for Web3 gaming applications, intended to streamline in-game transactions, such as purchases, betting, and reward distributions.

Paired with the XFUN Wallet, FUN enables fast, gas-free, on-chain deposits and withdrawals, all secured by robust cryptographic methods. The advantages for players include cashback, free rewards, additional interest on savings, and full control of their funds. Hence, FUNToken plays an integral role in the development of a fair, transparent, and accessible gaming environment.
FunToken Tokenomics
| | |
| --- | --- |
| FUN Price (July 2023) | $0.005189 |
| Trading Volume (24h) | $28.7 |
| Market Cap | $56.81 |
| Circulating Supply | 10,962,808,529 FUN |
| Total Supply | 10,977,277,070 FUN |
| Market Rank | #322 |
| All-time high | $0.3379 (July 2017) |
As of July 2023, the FunToken (FUN) is currently trading at $0.005189. It possesses a market capitalization of $56.81 million, which places it at the 322nd position among cryptocurrencies based on market cap.
The past 24 hours have witnessed a trading volume of $28.7 million, indicating the active involvement of participants in the FUN market.
The circulating supply of FunToken stands at 10,962,808,529 FUN, out of a total supply of 10,977,277,070 FUN. This close alignment of circulating and total supply demonstrates the wide distribution of FUN among its users. These statistics underscore the continuous activity and interest that FunToken garners in the cryptocurrency market.
FUNToken FAQ
1. How does FunToken differ from other gaming tokens?
FunToken aims to distinguish itself through its specific benefits to users and its technological positioning. Its integration with the XFUN Wallet allows for secure and rapid transactions, providing perks such as cashback, free rewards, and additional interest on savings. Furthermore, being an ERC20 token on the Ethereum blockchain, it is compatible with numerous decentralized applications (dApps) beyond just gaming, offering unique utility and versatility.
2. Is FUNToken the same thing as FunFair?
No, it is not. FunFair was the initial company that introduced the concept of the FUN token. However, after being spun out in early 2021, FUNToken is now an independent corporate entity responsible for managing the FUN cryptocurrency, making it distinct from FunFair.
3. What is FUNToken used for?
FUNToken serves as a decentralized digital token designed for the online gaming industry. It acts as the primary in-game currency for a wide variety of gaming platforms. Users can utilize FUN for placing bets, tipping, buying in-game assets, earning rewards, and participating in games within the FUNToken ecosystem.
4. Is FUNToken a good investment?
Investing in FUNToken, like any cryptocurrency, requires careful consideration. While it has utility in the Web3 gaming space and supports many dApps, potential investors must research extensively and assess their financial risk tolerance.
5. Where can I buy FUNToken?
If you would like to purchase FUNToken easily and securely, we recommend using Guardarian. With us you can buy FUN non-custodially & without registration. We guarantee the best possible customer experience and transaction security for buying & selling FUNToken.
Conclusion
FUNToken, as a key asset in the Web3 gaming industry, offers robust utility for a wide range of applications. Its ability to streamline in-game transactions, combined with the secure and efficient features of the XFUN Wallet, has solidified its position within the gaming and cryptocurrency sectors.
And if you are interested in converting FUNToken to USD or, instead, investing in it, Guardarian offers a reliable platform to do so. As a fully licensed fiat on-ramp provider, Guardarian allows secure, registration-free buying and selling of FUNToken among over 400 different cryptocurrencies. Whether for gaming, investing, or currency conversion purposes, utilizing the services of Guardarian can enhance your experience with FUNToken.