Bone Shibaswap (BONE) is an integral part of the SHIBA INU network, a decentralized, Ethereum-based ecosystem. Within this tri-token system—which also includes SHIB and LEASH—BONE offers unique utility on the Shibaswap platform, a decentralized exchange (DEX) comparable to Uniswap or PancakeSwap.
In this article we will explain in-depth where and how you can buy Bone Shibaswap. We will also delve into the specifics of Bone Shibaswap, discussing the process of purchasing it, its unique purpose, origin, and the tokenomics that govern its distribution and use.
What is Bone Shibaswap?
Bone Shibaswap is a cryptocurrency token under the SHIBA INU network, a decentralized, Ethereum-based ecosystem. It's part of a triple token system along with SHIB and LEASH. Each token within this ecosystem has a unique role and purpose. The Shibaswap platform, where BONE plays a significant role, is a decentralized exchange (DEX) similar to Uniswap or PancakeSwap, which allows users to provide liquidity, stake, and earn rewards.
BONE is mainly used within the ecosystem for governance and staking, making it an integral part of the community's decision-making processes and the platform's incentive system.
Bone Shibaswap (BONE) Tokenomics
BONE has a capped supply of 250 million tokens, with a large portion of it being allocated to the liquidity pool on the ShibaSwap platform. The rest is distributed through staking and farming rewards to incentivize participation in the network.
As of July 2023, each BONE token is priced at $1.28. The token's market capitalization stands at $294,438,144, making BONE the 103rd largest cryptocurrency. With a daily trading volume of $9.5 million, BONE shows robust trading activity and liquidity, crucial for the token's operation within a decentralized exchange like Shibaswap. On the supply front, the circulating supply of BONE tokens is approximately 229 million.
Where to Buy Bone Shibaswap (BONE)?

While ShibaSwap is a common platform for purchasing BONE, we recommend Guardarian as a fast and convenient alternative for BONE investments. As a licensed fiat on-ramp platform, we at Guardarian offer instant crypto purchases, supporting over 400 different tokens, including Bone Shibaswap.
Guardarian supports all major payment methods, including bank transactions, credit/debit cards, and mobile payment options like Apple Pay and Google Pay. We cater to investors worldwide, facilitating transactions in more than 40 fiat currencies.
With a focus on security and convenience, Guardarian provides non-custodial exchanges, ensuring that users retain full control of their funds. Plus, our platform needs no registration, allowing for a quick, user-friendly checkout process.
How to Buy Bone Shibaswap (BONE)?
Acquiring BONE on Guardarian is a straightforward, secure process. Follow these steps to get started:
1. Visit Guardarian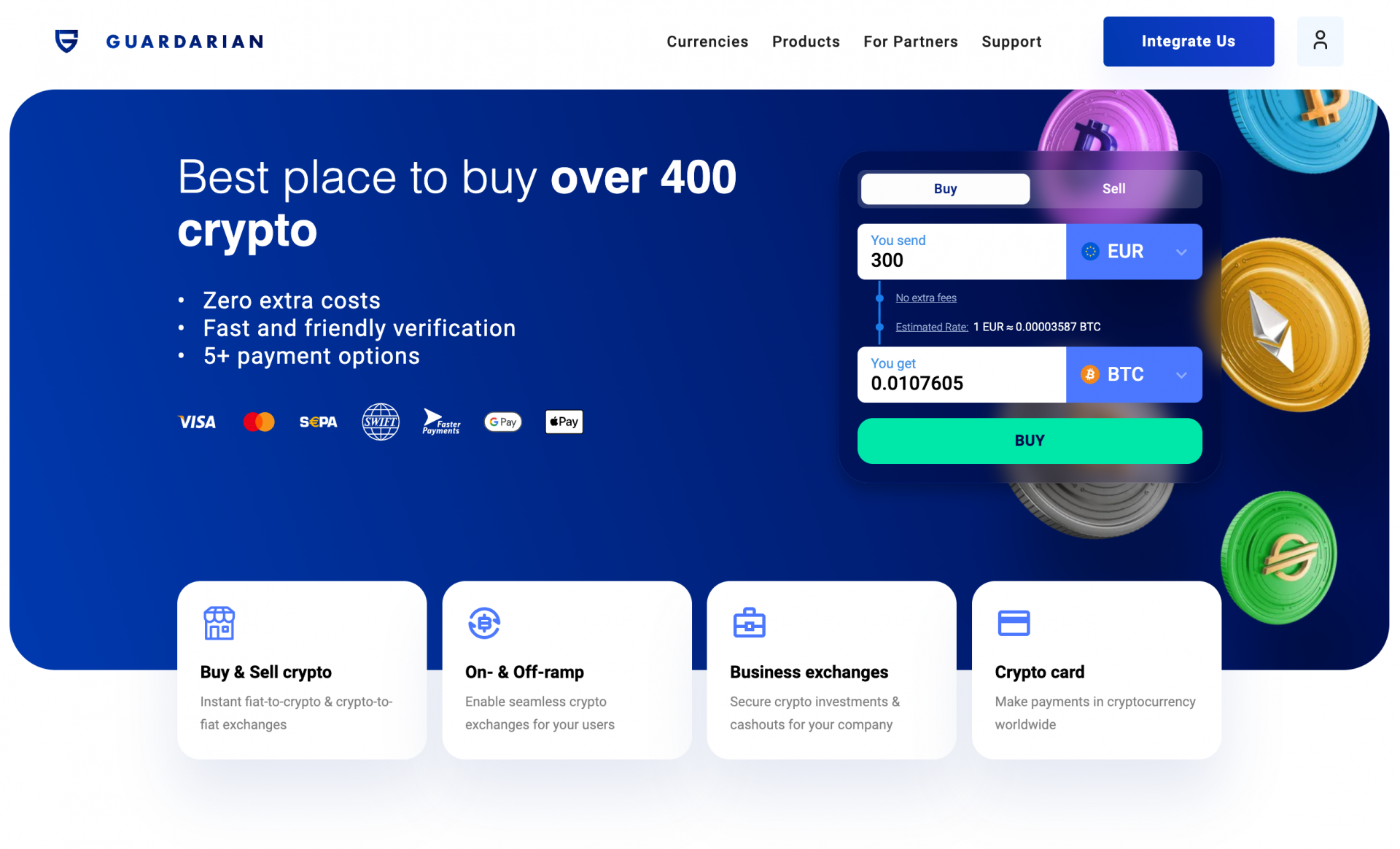 Begin by navigating to the Guardarian website at www.guardarian.com. The platform's intuitive design makes it easy to navigate, even for complete crypto beginners.
2. Select your currencies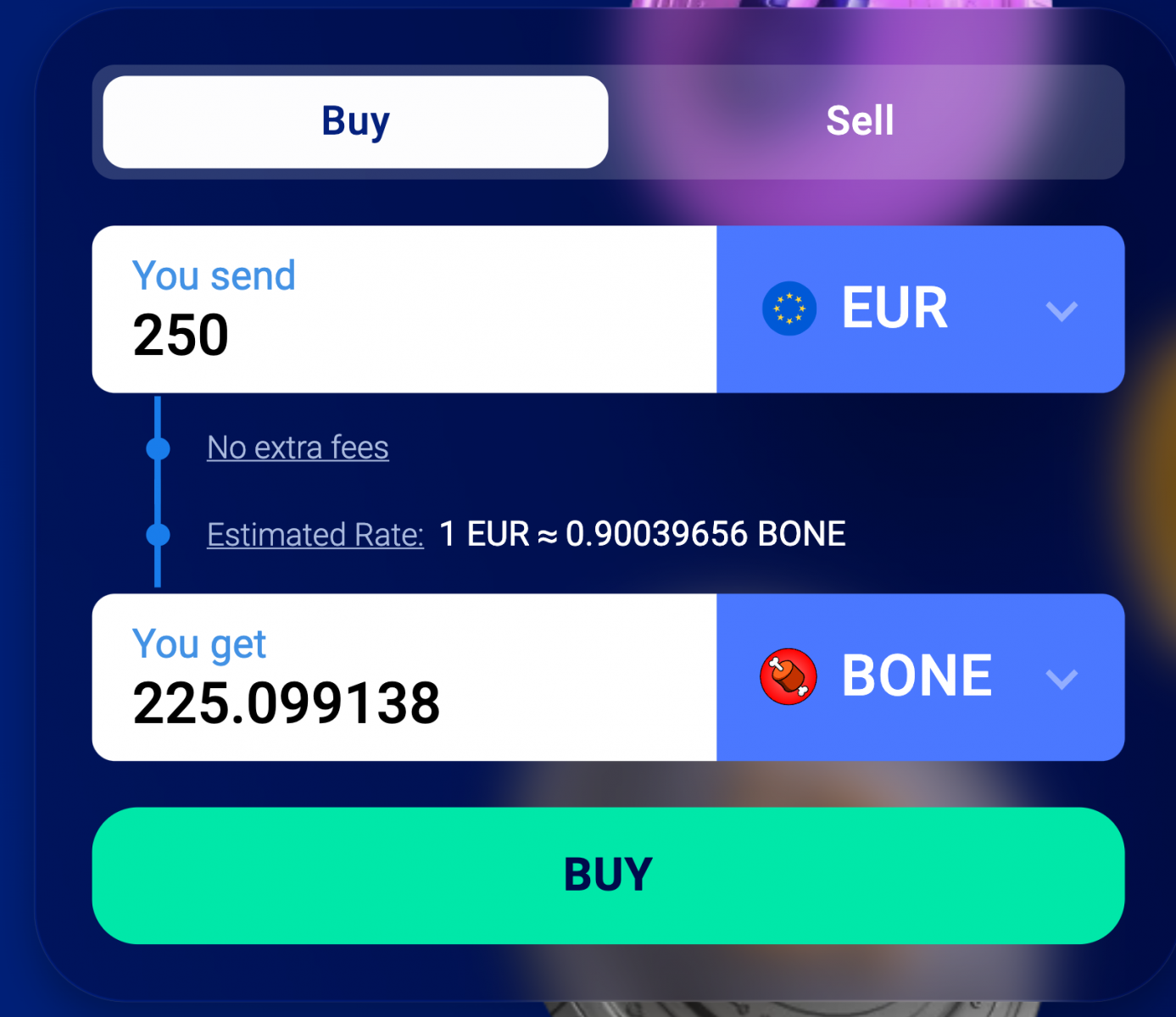 On the main page, you'll see a widget where you can select the cryptocurrency you want to purchase and the desired amount. In this case, choose BONE. You also need to select the fiat currency you will use for the payment.
When that's done – click "BUY".
3. Choose your payment method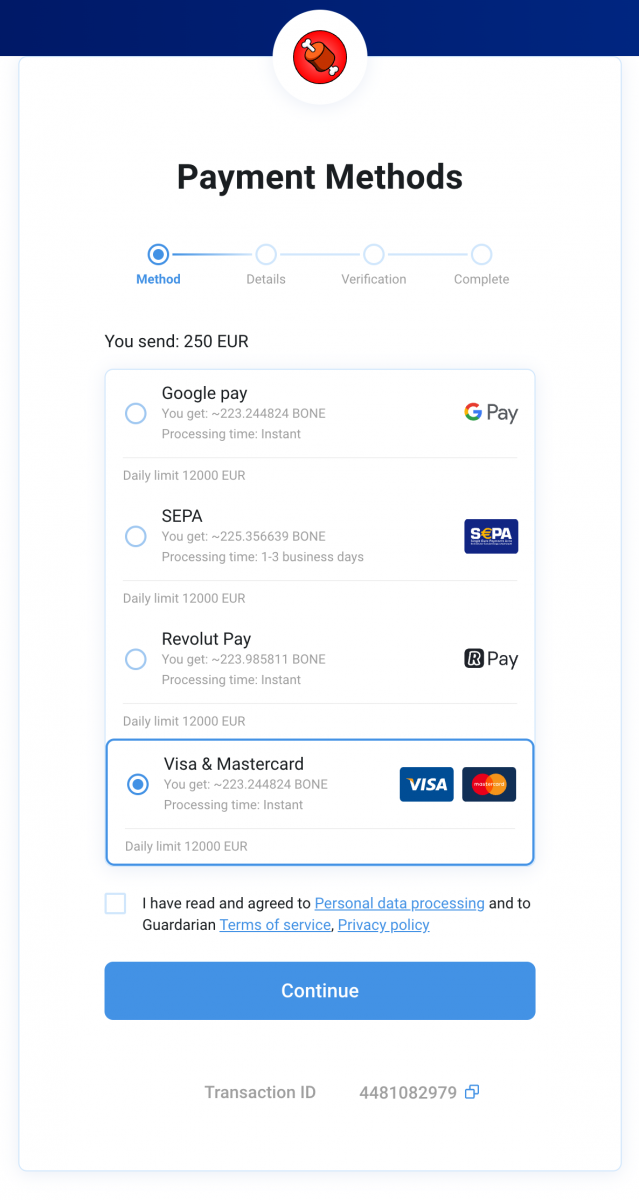 You can choose from several payment methods, including bank transfers, credit/debit cards, mobile payments like Apple Pay and Google Pay and more.
4. Enter your BONE wallet address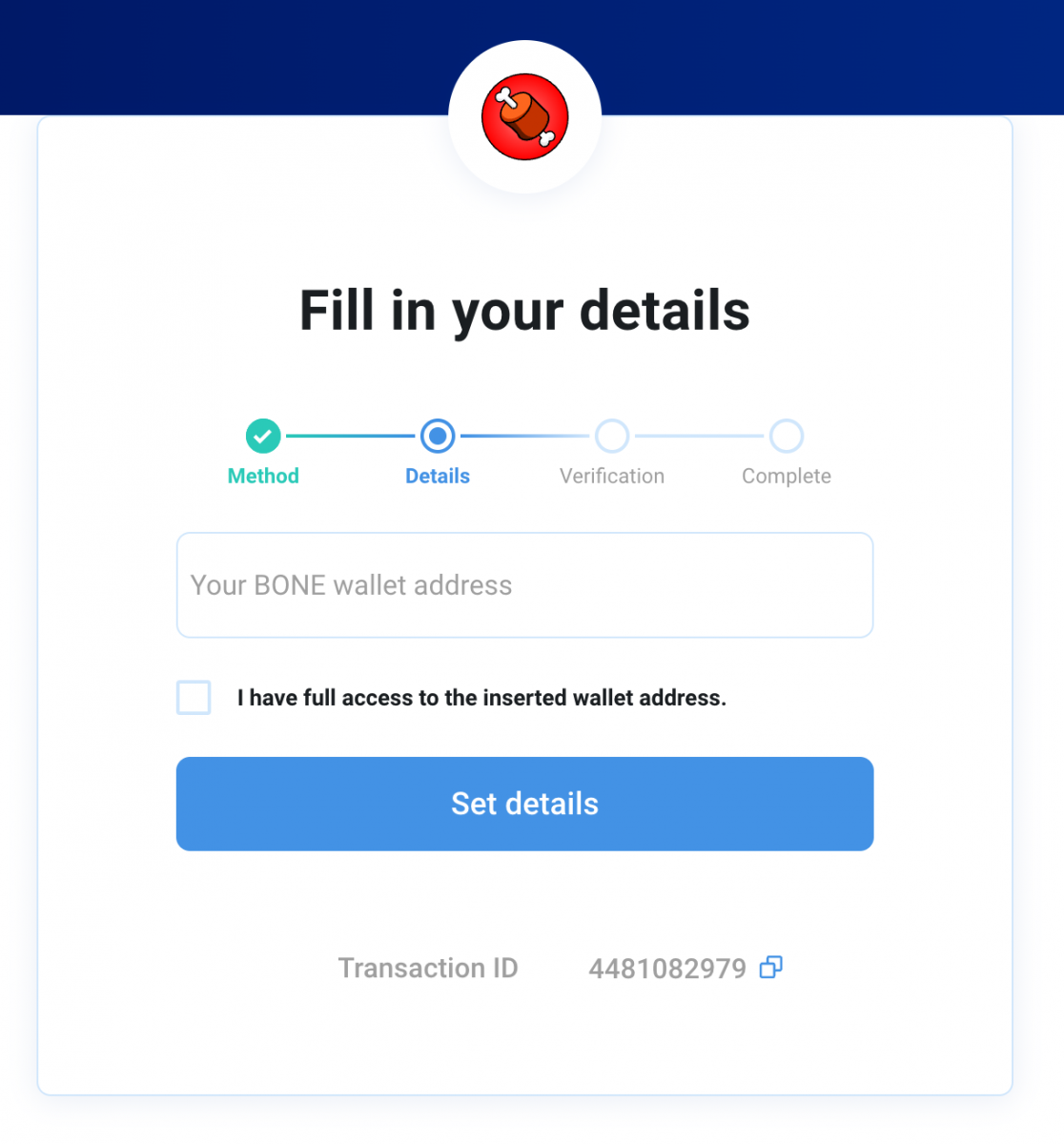 Next, enter the address of your BONE wallet. This is where the purchased BONE tokens will be sent directly, since we don't ask you to deposit any funds onto our platform.
Make sure to double-check the address to avoid any transaction errors.
5. Complete the instant checkout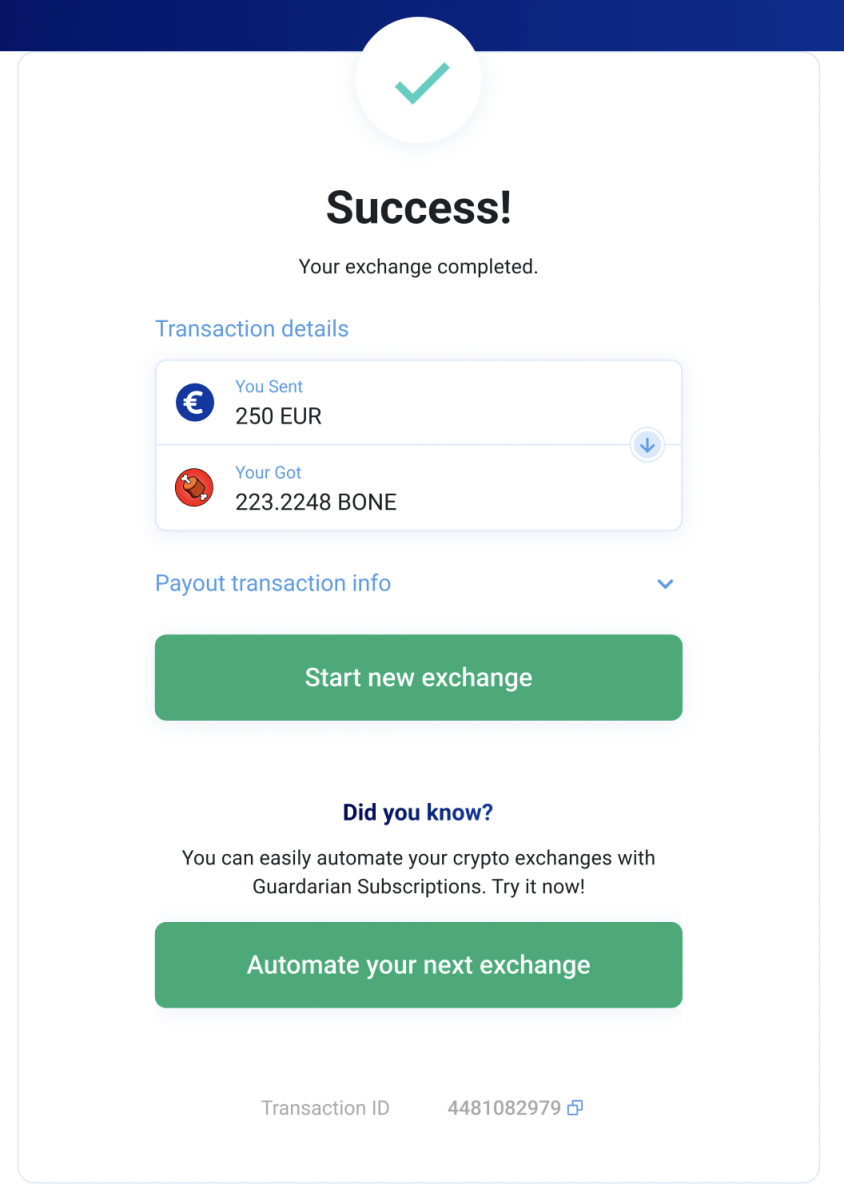 Proceed through Guardarian's secure and user-friendly checkout process. One of our key advantages is the lack of registration, allowing for an instant and streamlined checkout experience. 
Once the transaction is complete, it's time to check your wallet. You should see your newly acquired BONE tokens there within minutes. You're now ready to use or hold your BONE as you see fit!
Who Created Bone Shibaswap?
Bone Shibaswap is a part of the SHIBA INU ecosystem, which was created by an anonymous individual (or group) known as "Ryoshi". In the true spirit of decentralized finance, the identity of the creator(s) remains unknown.
Bone Shibaswap Price Predictions
Forecasting the future prices of cryptocurrencies is a challenging task due to the inherent volatility of the market. Nonetheless, here is what popular crypto price prediction platforms have to say about BONE's future potential.
According to the DigitalCoinPrice forecast, the price of BONE could reach $4.29 by 2025. This upward trend continues with a projected price of $5.61 by 2027 and a considerable rise to $13.32 by 2030. These figures suggest a steady increase in the value of BONE over the next decade.
Priceprediction.net presents a slightly different picture. It predicts that BONE will be worth $3.60 in 2025, increasing to $7.39 in 2027, and experiencing a significant hike to $23.34 by 2030. These projections imply a higher level of volatility but also a potentially more rapid growth for BONE.
It's important to consider that these forecasts are speculative and based on several assumptions. Hence, they should not be the only factor in investment decisions. Comprehensive personal research, coupled with an understanding of your financial circumstances and risk tolerance, remains crucial when investing in cryptocurrencies.
Is Bone Shibaswap a Good Investment?

Whether Bone Shibaswap (BONE) is a good investment largely depends on your investment goals and risk tolerance. BONE is integral to the ShibaSwap ecosystem and offers utility in staking and governance, indicating its potential value. With the impending launch of Shibarium, ShibaSwap's own Layer 2 blockchain, the utility and value of BONE could further increase, although the official launch date remains undisclosed.
Analyses from prediction platforms suggest a positive price trajectory for BONE, implying it could yield significant long-term returns. However, the crypto market's volatility means that investing in BONE involves considerable risk. Therefore, potential investors should conduct thorough research and consider their financial circumstances before investing.
In essence, BONE could be a good investment for those willing to embrace market volatility and who believe in ShibaSwap's long-term potential. But as always, portfolio diversification and prudent risk management should form part of any sound investment strategy.
Conclusion
Bone Shibaswap (BONE) is an interesting prospect in the field of crypto investments. It plays a vital role within the ShibaSwap ecosystem, and with the forthcoming launch of Shibarium, its potential for growth is notable. Combined with the promising future price projections, BONE stands out as a potential addition to an investor's portfolio.
If you've considered the information and feel that investing in BONE aligns with your financial strategy, Guardarian offers an effortless and secure platform to make this investment. With our user-friendly interface, instant transactions, and competitive low fees, it's your one-stop destination for stepping into the world of Bone Shibaswap. Visit Guardarian today, and take the first step towards your BONE investment journey.
Please note that this article is intended for informational purposes only and should not be considered as financial advice; always conduct your own research before making any investment decisions.