If you're interested in blockchain-based gaming, you may have heard of Gala Games. This blockchain-based platform offers a new way to buy and sell in-game assets using cryptocurrency, creating a unique economy that's taking the gaming world by storm. But is Gala Games (GALA) worth investing in?
This article will discuss what makes Gala Games unique and analyze its potential as an investment opportunity. From Gala Games' features and background to its current market performance, we'll guide you through the things you need to know to evaluate whether it is a wise investment.
Let's get right into it, starting with… 👇
What is Gala Games?
Gala Games (GALA) is a gaming platform that allows players to take ownership of their in-game assets through blockchain technology. It was founded by Eric Schiermeyer, Wright Thurston, and Michael McCarthy in 2018. Gala Games aims to make online gaming more decentralized and empower players with greater control over their gaming experiences.
The platform utilizes non-fungible tokens (NFTs) that players can collect, trade, and sell within the Gala Games ecosystem, giving them true ownership of their digital assets. Additionally, the GALA cryptocurrency serves as the medium of exchange, allowing players to pay for items and transfer value peer-to-peer within the platform's ecosystem.

What games does Gala Games have?
Gala Games offers a range of titles, including real-time strategy (RTS), multiplayer online battle arena (MOBA), role-playing games (RPG), and more. Each game rewards players with digital assets, including GALA and NFTs, for their in-game accomplishments.
What Blockchain does Gala Games use?
The Gala Games platform runs on the Ethereum blockchain, with plans to launch its autonomous blockchain called Project GYRI, powered by the GALA token. The platform has also partnered with the Polygon network and has successfully bridged to BNB Chain, allowing players to send and trade their tokens at reduced gas fees.
Is Gala Games an active project?
Gala Games' innovative play-to-earn model has attracted over 1.3 million monthly active users since its launch, with more than 26,000 NFTs sold. The platform's latest game, Spider Tanks, is the first blockchain-based esports game. The company has recently welcomed Mark Skaggs, former vice-president of Electronic Arts (EA), as its senior vice-president of games.
GALA Tokenomics
Let's have a look at current state of GALA token as well as its historical performance.
The current state of GALA (March 2023)
The total supply of GALA is approximately 50 billion, while the circulating supply (as of writing this article) is about 7.5 billion GALA. The current market cap (the total market value of circulating supply) is approx. $288,724,591.85, whereas the daily volume (a measure of how much a cryptocurrency is traded in 24h) is $169,267,336.48.
GALA halving schedule
There is a set amount of GALA being distributed daily, which is getting decreased according to the predefined halving schedule.
Each year, on July 21st, the distribution of GALA is halved. For example, beginning on July 21st of 2022, the daily distribution of GALA decreased from 17,123,286 to 8,561,643. Which means that on July 21st of 2023, the distribution will go down to 4,280,821 GALA
GALA historical price
GALA was initially listed at $0.00143 and hit its peak price in Nov 2021 when it reached $0.83. Currently, one GALA token price is $0.0413.
GALA Price Predictions
Since its inception in 2018, Gala Games has gained significant traction in the crypto market, offering great returns to its initial investors in 2021. The GALA token has grown substantially, reaching an all-time high (ATH) of $0.83 in November 2021.
Let's see what estimates are given by different sources.
GALA price prediction (Telegaeon)
According to Telegaon's analysis, the future of GALA token seems bright, and it is expected to show impressive growth in the long term.
In 2023, the GALA token price may reach a maximum level of $1.87, while the average price may be around $1.29, and the minimum price could be $0.98.

In 2024, the maximum trading value of GALA token may reach $0.085, and the average price may be around $0.12, while the minimum price level could go up to $0.063.
In 2030, the average price of GALA token may reach $31.25, while the minimum price value could be around $28.92, and the maximum price is expected to trade around $35.13.
In summary, Telegaon predicts that the GALA token has the potential to grow and achieve impressive returns for its long-term investors. However, the prices may fluctuate depending on market trends.
GALA price prediction (Digitalcoinprice)
Based on Digitalcoinprice analysis, the value of Gala token will experience significant growth in the coming years.
By the end of 2025, the Gala token is expected to reach a price of $0.15, reflecting an increase of 259.95%. However, their analysis also suggests that the current market sentiment is bearish, with technical indicators pointing towards a downturn.

By 2030 Digitalcoinprice expect to see GALA reaching the price level of $0.42.
The Fear & Greed Index is currently reading 15.28, indicating extreme fear among investors. Given these factors, selling the Gala token now may be risky.
GALA price prediction (Captainaltcoin)
According to Captainaltcoin's prediction model, GALA will experience some decrease in price in late spring, however will recover and reach the price of %0.0528 by the end of 2023.

By the end of 2025, they see the price of GALA reaching $0,0914.
Finally, Captainaltcoin's forecast for 2030 says that GALA will cost somewhere around $0.4025.
GALA Fundamental Analysis
Gala Games is a platform offering a diverse range of blockchain games developed by its in-house studio and strong external partners. The eternal studios list includes:
Kung Fu Factory

Ember Entertainment

GAMEDIA

Certain Affinity

22cans
How does Gala Games Work?
Gala Games operates through a decentralized network of computers rather than relying on a single central server controlled by one entity. This network comprises nodes that provide computational resources to the Gala Games platform in exchange for rewards.
Founder's Nodes, of which only 50,000 will ever be created, are parts of the decentralized network that is Gala Games. operated by individuals who work to secure the platform from fraudulent and malicious behavior, validate transactions, and generate GALA assets. These nodes receive periodic rewards through GALA tokens and unique NFTs for their computational effort.
Node operators also can vote on community proposals and provide input on ecosystem development. A Gala Node license, which is required to operate a Gala Node, can be purchased with GALA tokens.
Through its decentralized network, Gala Games provides a unique gaming experience and rewards participants for their contributions to the platform.
What blockchain does Gala Games operate on?
Gala Games was originally built on top of the Ethereum blockchain. This means that the main way to transfer GALA token is using the Ethereum network.
The pNetwork Bridge application connects GALA tokens to the BNB Chain. This allows the tokens to conform to the BEP-20 token standard, reducing the costs associated with using or sending GALA across the Gala Games platform.
Gala Games Ecosystem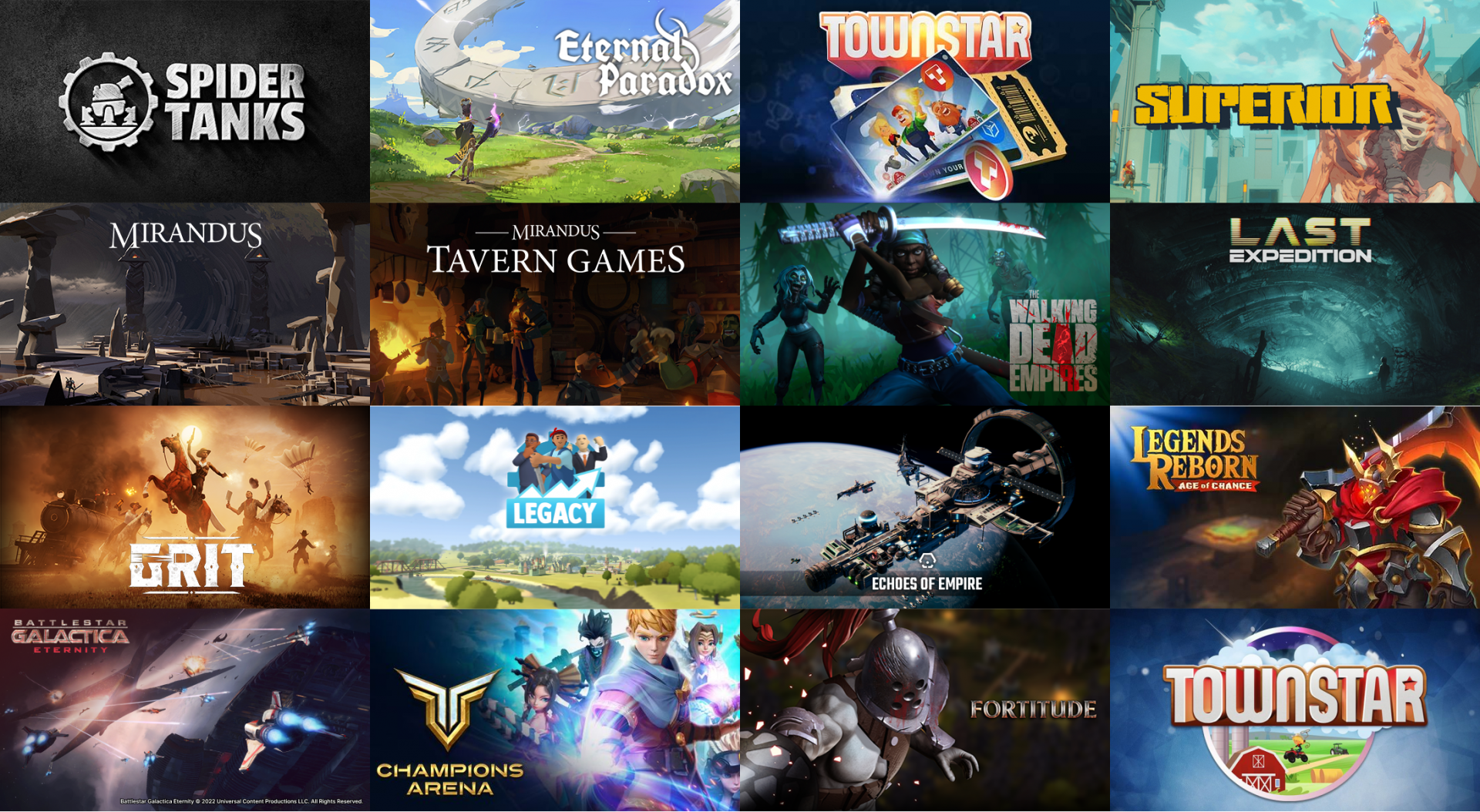 Since Gala Games is a gaming platform, it's success is significantly dependent on the games it offers. So, let's look at what the platform has to offer to the worldwide gaming community.
Gala Games ecosystem: Ready to play
There are currently 6 games that are ready to download and play. Here is the complete list of them:
Gala Games ecosystem: Coming soon
In addition to games listed above, there is a range of games that are currently being developed, many of which will be available for testing and playing in the near future. These include:
Is GALA a good investment?
Recent price increases have demonstrated that Gala can provide significant returns for investors. The GALA token has shown growth and is considered one of the fastest-growing gaming projects and cryptocurrencies with real use cases, which is a positive indicator for long-term investment.
At the same time, it has had its portion of controversies, including the 2022 exploit that saw $4.5 million drained from Gala Games' liquidity pool. Earlier this month (March 2023) Gala Games filed a $28 million lawsuit against the aforementioned pNetwork bridge, claiming that they hold responsibility for the event.
In the end it is essential to understand that the crypto market is highly volatile, and prices may fluctuate rapidly. While the trend appears bullish at the moment, investors must practice proper risk management before making investment decisions.
How to buy GALA token?
If you are interested in investing into GALA, we recommend you to check out Guardarian.
On our website you can buy & sell GALA as well as 400+ other cryptocurrencies fast, securely and without registration! 🔥
Follow these simple steps:
Go to

www.guardarian.com.

Select the currency you want to pay with & the required amount.

Choose GALA as the token to buy.                                       

Press Buy & complete a fast & easy checkout process.
Check your wallet & we hope to see you again soon! 🙂
The Takeaway – Future of GALA Games
With its innovative technology and engaging games, Gala Games provides gamers with a one-of-a-kind gaming experience, making it an interesting project that has real potential to make some noise in the gaming industry. So, if you're a gaming enthusiast or a crypto investor, we recommend you check Gala Games as an example of what blockchain technology can bring to the gaming as well as other digital industries in the future.
Make sure to visit Guardarian for the best offers on the market & subscribe to us on social media to stay up to date with the latest news & updates from the world of blockchain! ✨
The information provided in this article is the author's opinion and not investment advice. There is always the risk of seeing your investment go down in value due to price fluctuations. Make sure your portfolio aligns with your investment objectives and risk tolerance by reviewing it regularly and investing only money you can afford to lose.