Injective is a Layer 2 blockchain protocol that is designed to power decentralized finance (DeFi) applications, such as decentralized exchanges, lending protocols etc.
The project has accumulated serious investor interest in 2023, as did its native currency – INJ token. But is Injective Protocol a good investment? In this article we will discuss just that, along with how Injective Protocol works and what makes it unique.
Let's begin with the basics. 👇
What is Injective Protocol (INJ)?
Injective Protocol is a decentralized exchange protocol that offers a wide range of cross-chain trading features. These can be used to enable users to trade a wide range of assets, including cryptocurrencies, derivatives, and stocks.
Injective uses  technologies like the Cosmos SDK and Tendermint consensus algorithm to provide the tools and framework necessary for developers to create efficient exchanges and dApps.
Who created the Injective Protocol?
Injective Protocol was created by a team of experienced developers and entrepreneurs at Injective Labs. Eric Chen, a cryptographic researcher and investor co-founded Injective Labs with Albert Chon, a scientist and ex-developer at Amazon. 

Their vision was to build a decentralized trading protocol that eliminates the limitations of traditional centralized exchanges.
How does Injective Protocol work?
Injective utilizes a Layer 2 scaling solution called Optimistic Rollup, which processes most transactions off-chain and bundles them into a single batch. This enhances scalability and reduces transaction fees. The platform also incorporates a decentralized order book and a validator-based system for transaction verification.
When a trade is initiated on Injective Protocol, the transaction undergoes verification on the underlying L1 blockchain (e.g. Cosmos). Then, the transaction details are transmitted to the Layer 2 sidechain known as Injective Chain for processing. By using a decentralized order book, the Injective Chain effectively matches buy and sell orders to ensure a fair trading process.
Injective Protocol also incorporates an Automated Market Maker (AMM) mechanism, enabling users to contribute liquidity and earn fees.
What is INJ token?

INJ is the native cryptocurrency of the Injective Protocol ecosystem. It serves a range of purposes, including paying transaction fees, staking, and governance. Interestingly, INJ is also used for supplying collateral for certain derivatives markets as well as for margin trading.
You can buy & sell INJ instantly with the lowest fees on Guardarian.
What Makes Injective (INJ) Unique?
Injective Protocol stands out in the competitive cryptocurrency market due to a number of factors. Here are some of the most important ones:
1. Decentralization
Using the Cosmos Tendermint standard enables Injective to offer a truly decentralized trading experience, eliminating the need for intermediaries and providing users with full control over their assets.
2. Zero gas fees and low latency
Injective's Layer 2 design is meant to eliminate network congestion, which in turn reduces network latency significantly as well as brings the gas fees down to zero.
3. Cross-chain Compatibility
Injective is built to be compatible with multiple blockchains, enabling the trading of assets across different networks.
4. A decentralized order book
The order matching occurs on the Injective sidechain, while the settlement takes place on-chain in batches. This fully decentralized order book solution offers efficiency and transparency to traders.
5. Unlimited market creation
Injective supports decentralized, P2P trading through perpetual swaps and contracts for differences (CFD) derivative products. This allows anyone to create their own derivatives market at any point, encouraging innovation and fostering a community-driven environment.
INJ Tokenomics
The INJ token has a maximum supply of 100 million tokens and a circulating supply of just over 80 million tokens, as of May 2023. It is a deflationary cryptocurrency, meaning that its supply will decrease over time. 
As of May 2023, INJ is trading at the price of $6.07. It reached an all-time high price of $22 in the bull market of 2021. By the end of 2022, INJ reached a low of $1.20. In 2023, however, INJ experienced an impressive price spike, reaching the level of over $9.20 before settling down at the current price of just above $6.
INJ token's current market cap is $485,902,206 and its daily trading volume is $45,489,948.
INJ Price Predictions
Price predictions in the cryptocurrency market are highly speculative and subject to various factors. Analysts and experts have different perspectives on the future price of INJ. Given the deflationary nature of INJ and the growth potential of the DeFi sector, many of these predictions are reasonably positive.
DigitalCoinPrice data suggests that INJ will reach an estimated average price of $12.23 in 2023. By the end of 2025, it may rise to $21 level and by 2030 it could already reach a price of $62.
Remember that these are just estimates – always conduct thorough research, analyze market trends, and consider the project's development roadmap when investing in cryptocurrency.
How to Buy Injective Token (INJ)?
If you are thinking of buying or selling INJ token, we recommend you check out Guardarian.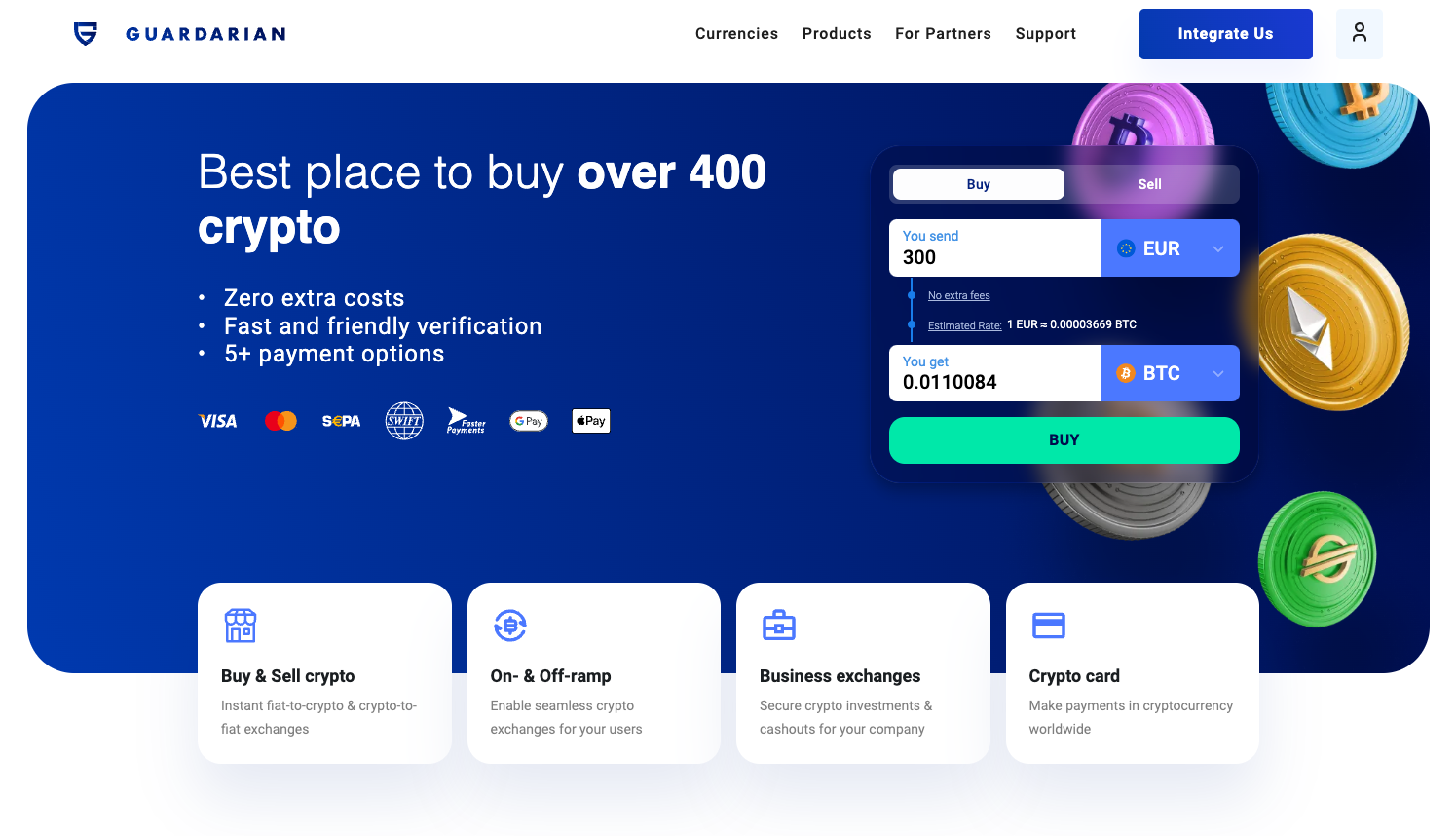 With us you can buy & sell over 400 different cryptocurrencies – without registration and with the lowest fees possible. Simply follow these easy steps:
Go to

www.guardarian.com

Choose your cryptocurrency of choice & your payment currency

Enter required amount & press "Buy".

Enter your wallet address & complete our fast & intuitive checkout process –

no registration required

.

Check your wallet & we will see you again soon!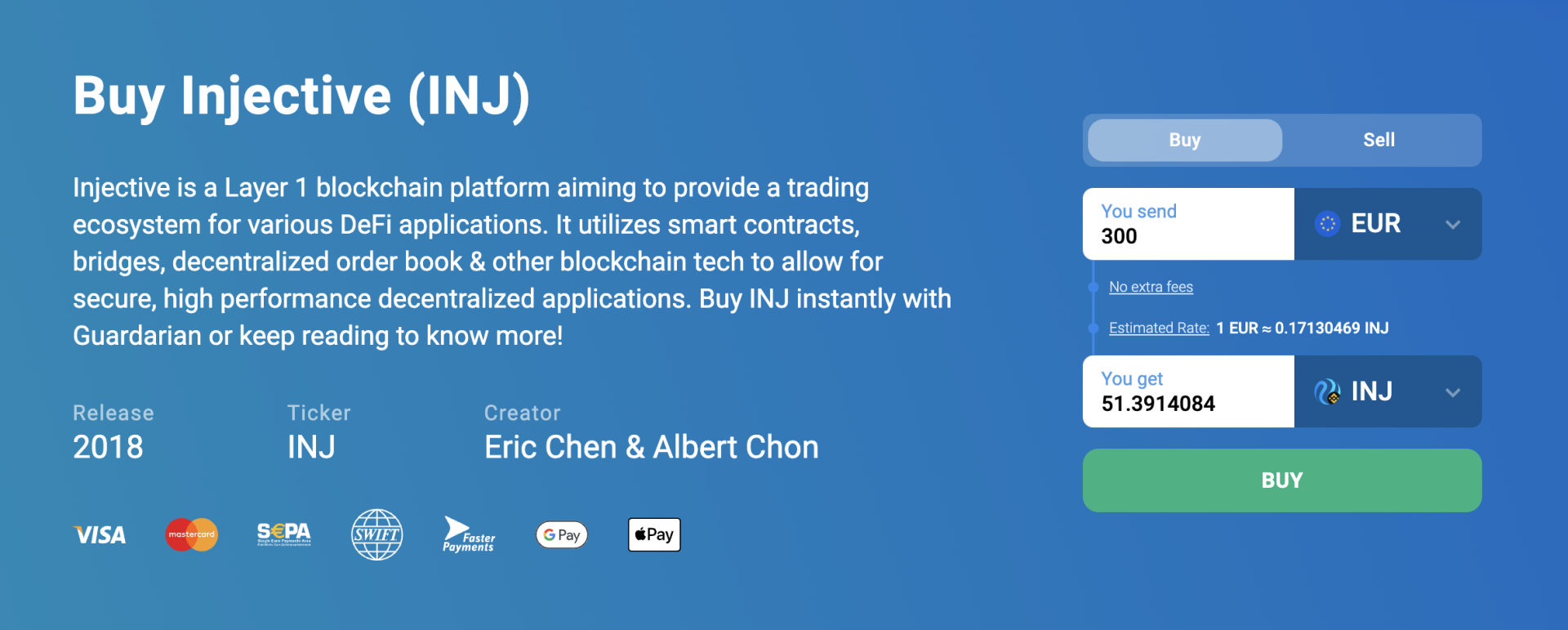 You can also visit our dedicated Injective page where you can get more information and buy INJ in a matter of minutes.
Conclusion: Is Injective Protocol a Good Investment?
Injective protocol's unique architecture, strong benefits and commitment to decentralization make it an intriguing investment option. We recommend keeping an eye on it as the project evolves to better serve the needs of the growing DeFi sector. 
If you found this article useful, follow us on Twitter to get the latest articles updates from the crypto industry. Make sure to also visit Guardarian for the lowest fees and best best deals on cryptocurrencies. ✨