Volt Inu is a multifaceted DeFi project built on the Ethereum blockchain. Uniting diverse elements of the crypto world, Volt Inu encompasses a decentralized exchange (DEX), non-fungible tokens (NFTs), a play-to-earn gaming platform, and several other innovative features in one integrated ecosystem.
In this article, we'll delve into the key aspects of Volt Inu, examine the specifics of its token, and evaluate its potential as an investment. So, if you're looking to expand your crypto knowledge or pondering on investing in Volt Inu, read on as we explore this project in-depth.
What is Volt Inu?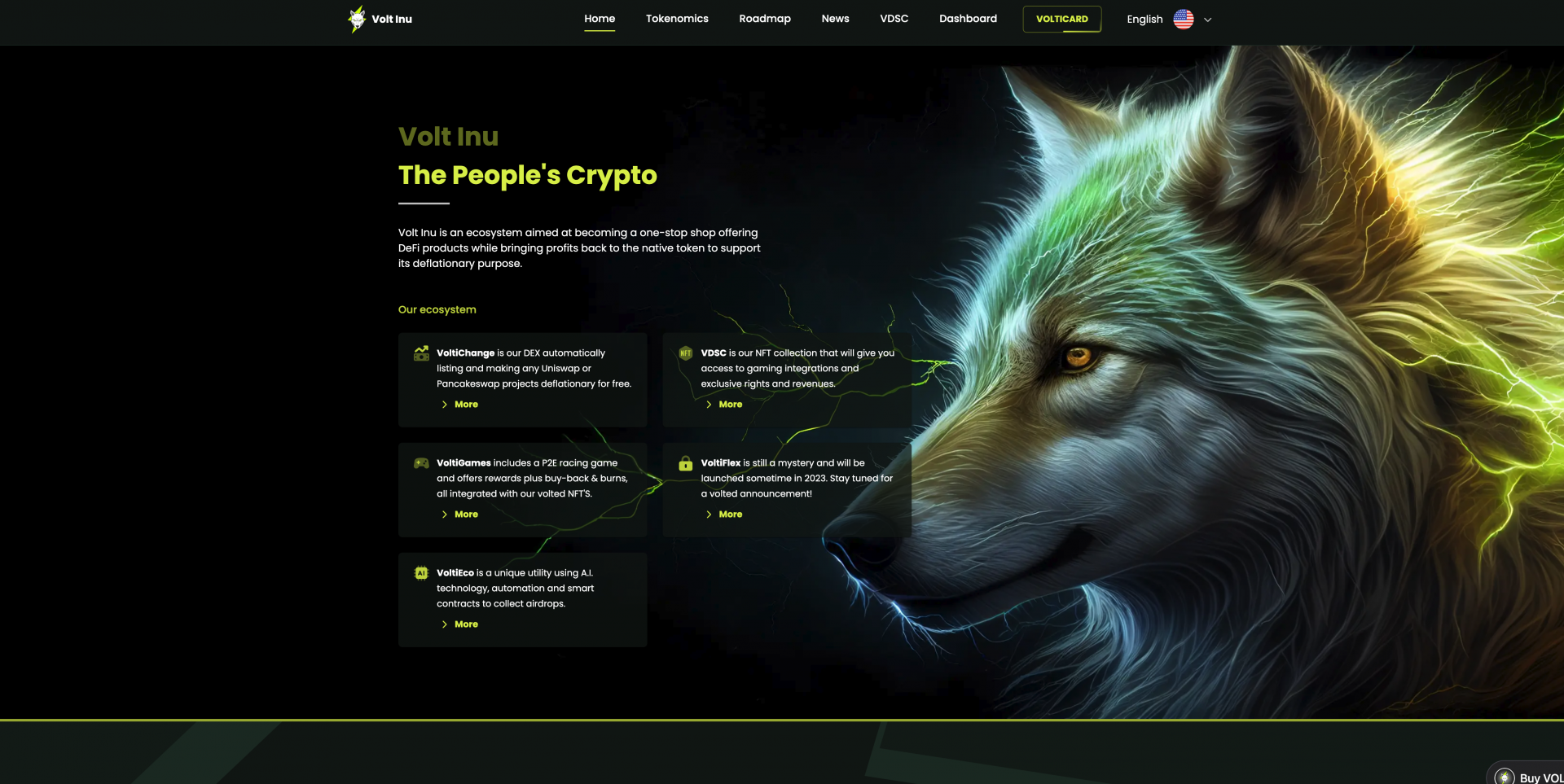 Introduced in December 2021, Volt Inu is a decentralized finance (DeFi) project, often compared to the likes of Shiba Inu due to its vision of building a diverse and integrated DeFi platform.
Or, as they themselves call it, a "one-stop shop" for DeFi products.
Built on the Ethereum blockchain, Volt Inu merges several key crypto sectors including a decentralized exchange (DEX), non-fungible tokens (NFTs), an play-to-earn gaming platform and more.
The ecosystem is powered by its native token, $VOLT, a deflationary asset that uses strategies such as buy-backs and burns, complemented by various revenue-generating models. These are all aimed at rewarding token holders and enhancing the token's value.
This integrated approach, alongside the synergies created among its diverse components, makes Volt Inu a unique proposition for DeFi users and investors alike.
The Volt Inu Ecosystem
Volt Inu's ecosystem is a diverse set of interconnected components, each offering unique benefits and functionalities. Let's briefly go over each one of these to give you a clearer picture of what the platform offers.
VoltiChange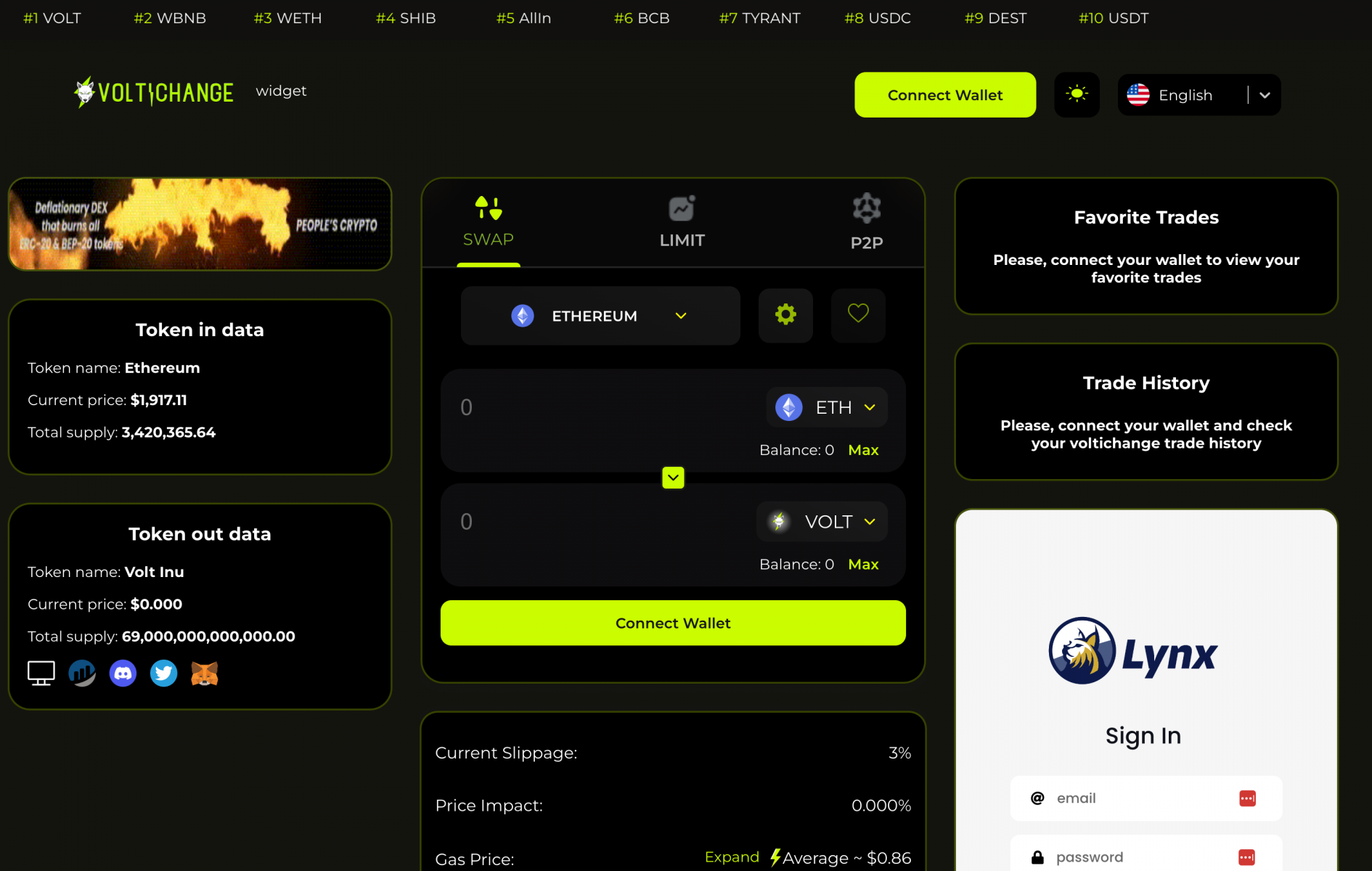 VoltiChange is Volt Inu's decentralized exchange (DEX) platform. Unlike many others, VoltiChange automatically lists Uniswap and Pancakeswap projects and renders them deflationary, burning their supply with each trade. The DEX offers a customizable widget, which can be placed on any website, increasing its accessibility and utility.
Volted Dragons Sailors Club (VDSC)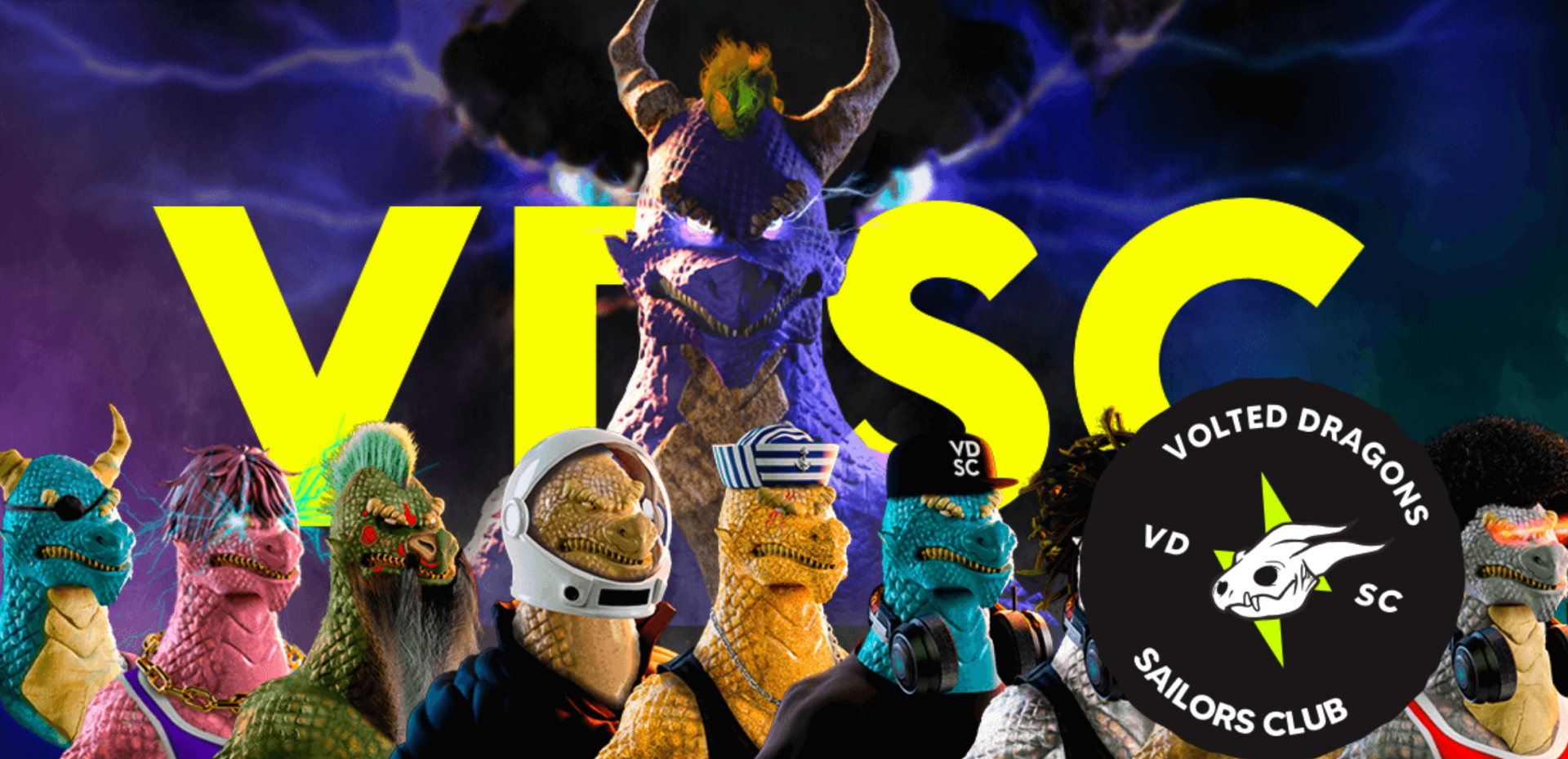 The VDSC is an NFT collection that integrates directly into the Volt Inu ecosystem. Owning one of these unique 3D NFT Dragons provides members with exclusive access to future collections, real-world events, meetups, and certain rights and revenues within the ecosystem, making it more than just a digital asset.
VoltiGames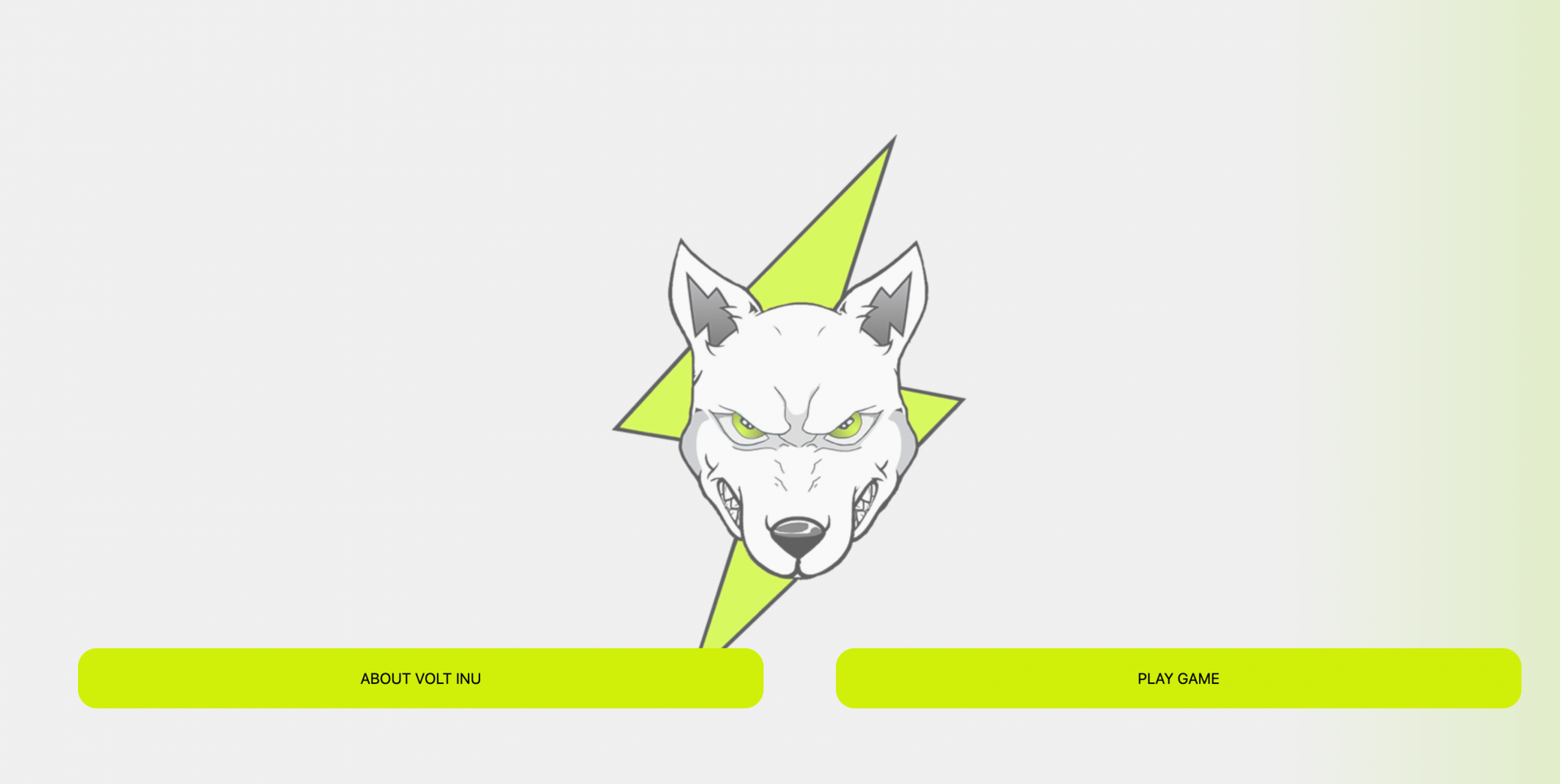 VoltiGames is a play-to-earn platform that offers multiple ways to earn $VOLT. It is built to expand through partnerships and integrates NFTs, aiming to provide a gaming experience that's not just entertaining but also rewarding.
VoltiFlex
Scheduled for launch sometime in 2023, VoltiFlex is an upcoming multi-chain decentralized staking platform. Apart from the official teaser tweet, there is little information available about it currently. However, we do know that it is meant to work in conjunction with the VoltiChange exchange and offer reflections and staking of a wide range of crypto tokens.
VoltiEco
VoltiEco is an autonomous protocol in Volt Inu's ecosystem. It is designed to automate and optimize participation in crypto airdrops across multiple blockchains.
Using AI and automated algorithms, the system identifies valuable airdrops and builds the necessary infrastructure for interaction. The earnings from these airdrops are strategically distributed between VoltiEco Farming Pools, VOLT and VDSC buybacks and burns, and ecosystem operations, reinforcing the financial strength of Volt Inu.
Currently in its advanced development stages, VoltiEco is anticipated to launch in the next three weeks.
Volticard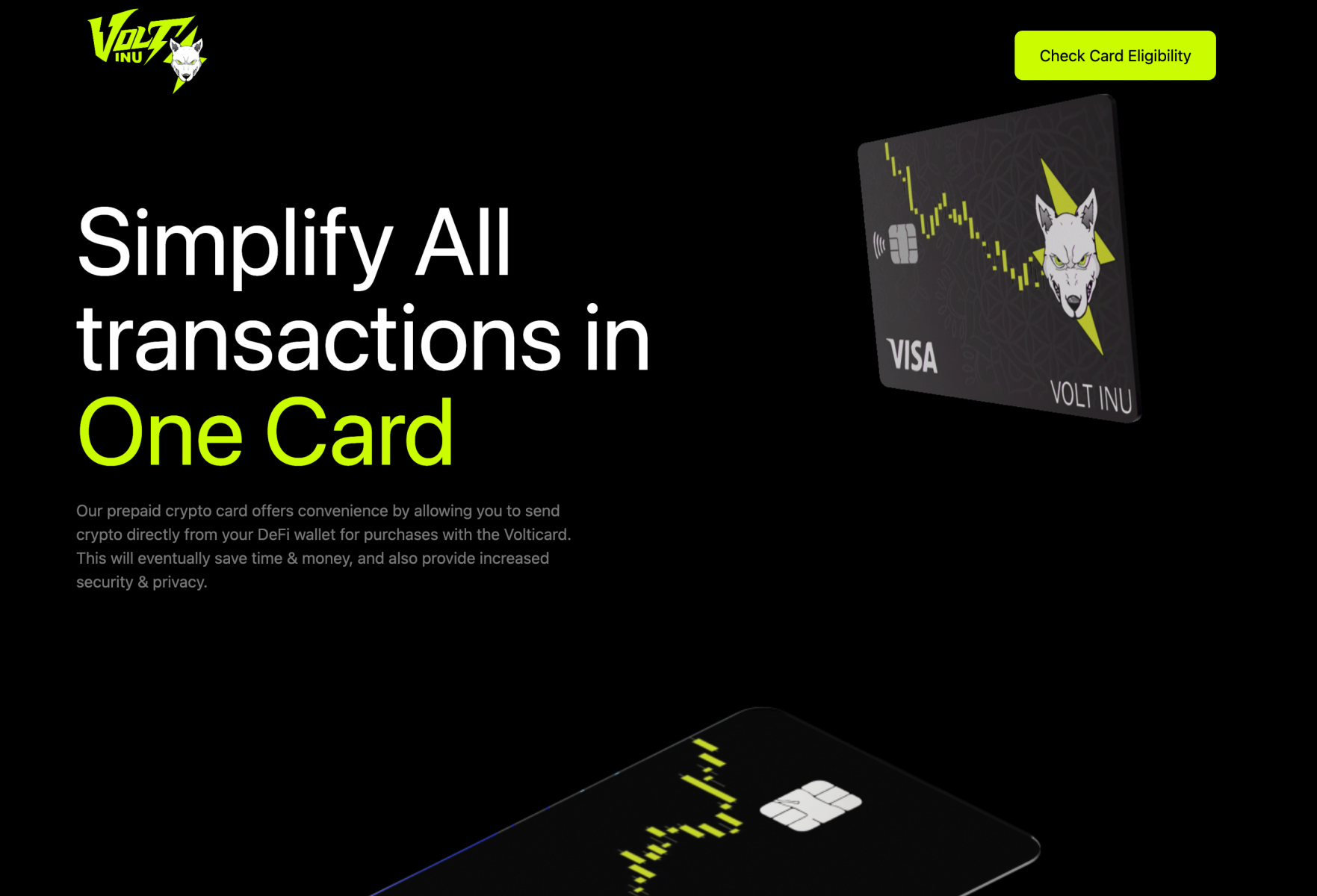 Volticard is a physical or virtual Debit Card that enables users to spend cryptocurrencies for everyday purchases. It accepts up to 6 different cryptos upon launch, including BTC, ETH, XRP, USDT, USDC, and BUSD, and is powered by VISA, making it usable worldwide.
Each component plays a vital role in making Volt Inu a well-rounded platform, offering a suite of services catering to the diverse needs of the crypto community.
What is Volt Inu (VOLT) Token?
VOLT is the key currency of Volt Inu and is designed to become increasingly rare over time, thanks to its deflationary nature. It's built on Ethereum and is key to supporting the diverse DeFi products that Volt Inu offers.

VOLT works differently on Ethereum and Binance Smart Chain.
On Ethereum network, users get a 1% reward for adding VOLT to their wallets and a 2% reward for providing liquidity. Also, 2% of tokens are automatically burned with each transaction. Further, 4% is set aside for marketing and development and another 4% goes back to the treasury to help keep burning more tokens.
On BSC network, users get a 1% reward for adding VOLT to their wallets. Additionally, 2% of the tokens are dedicated to a burning mechanism, and 4% of tokens are used for marketing and development, while another 4% goes back to the treasury. With these measures, VOLT aims to increase its value and scarcity over time.
What is the difference between Volt Inu V1, V2, and V3?
Volt Inu has undergone significant transformations through its V1, V2, and V3 versions, each bringing notable improvements to the ecosystem. Let's explore the key distinctions:
Volt Inu V1
Volt Inu V1 originally had a total supply of 69 trillion tokens. This excessive supply created challenges for listing VOLT on centralized exchanges. To overcome this, Volt Inu decided to migrate all V1 tokens to V2 by dividing the total supply by 1 billion. The migration process was intended to be automatic, ensuring a seamless transition for token holders.
Volt Inu V2:
Volt Inu V2 focused on increasing adoption and making the project more widespread. This adjustment was expected to boost trading volume on decentralized exchanges (DEXs) and pave the way for future developments.
Volt Inu V3:
Launched in May 2023, Volt Inu V3 completely eliminated on-chain taxes, further enhancing security and convenience for token holders. This change also facilitated listing on larger centralized exchanges (CEXs) and integration with partners without the need for whitelisting.
So, the migration from V1 to V2 addressed listing challenges, while the subsequent V3 release eliminated on-chain taxes, offering even greater benefits to the community.
Volt Inu V3 (VOLT) Tokenomics
| | |
| --- | --- |
| VOLT Price (July 2023) | $0.0000003104 |
| Trading Volume (24h) | $12,402,953 |
| Market Cap | $16,992,958 |
| Circulating Supply | 54 trillion VOLT |
| Total Supply | 60 trillion VOLT |
| Market Rank | #632 |
| All-time high | $0.000003513 (April 2022) |
Volt Inu Price Prediction
VOLT Price Predictions for 2023
Looking ahead to 2023, the price predictions for VOLT are somewhat varied. According to DigitalCoinPrice, VOLT's price is projected to reach $0.000000612, while PricePrediction.net offers a slightly higher forecast at $0.00000073.
VOLT Price Predictions for 2025
By 2025, the expected value of VOLT is set to increase. DigitalCoinPrice predicts that the token will hit an average price of $0.00000109. On the other hand, PricePrediction.net suggests a higher price point, estimating that VOLT will reach $0.00000149.
VOLT Price Predictions for 2030
In the long term, by 2030, both sources predict a significant growth in VOLT's value. DigitalCoinPrice's estimate stands at $0.00000311, while PricePrediction.net projects a more ambitious figure, placing VOLT at $0.00001001.
Please note that these predictions should be used as a guide and not as investment advice. They are based on the data available at the time of writing and are subject to changes in the market and the broader economic environment.
Is Volt Inu a Good Investment?
As with any crypto investment, it is crucial to weigh the potential rewards against the risks. Volt Inu presents some promising indicators of growth. The price predictions for VOLT in the coming years forecast a positive upward trend, suggesting a potential for a solid return on investment.
Volt Inu continues to show signs of active development. New projects are being launched and existing ones are being refined, contributing to the robustness and diversity of the Volt Inu ecosystem. The upcoming VoltiEco and the mystery project VoltiFlex are examples of this continued evolution and growth. Furthermore, the recent migration of the token reflects the proactive steps the project is taking to meet market needs and trends.
However, it's also important to consider the inherent risks associated with the cryptocurrency market. Its highly volatile nature can lead to significant price fluctuations. This means that while there is a potential for high returns, there is also a risk of substantial losses.
Thus, while Volt Inu shows promise and the VOLT token has growth potential, any investment should be made with an understanding of the possible risks and a clear investment strategy. As always, we recommend you conduct thorough research and consult with financial advisors before making investment decisions.
Where to Buy Volt Inu (VOLT)?
Interested in buying Volt Inu? We at Guardarian are always glad to help.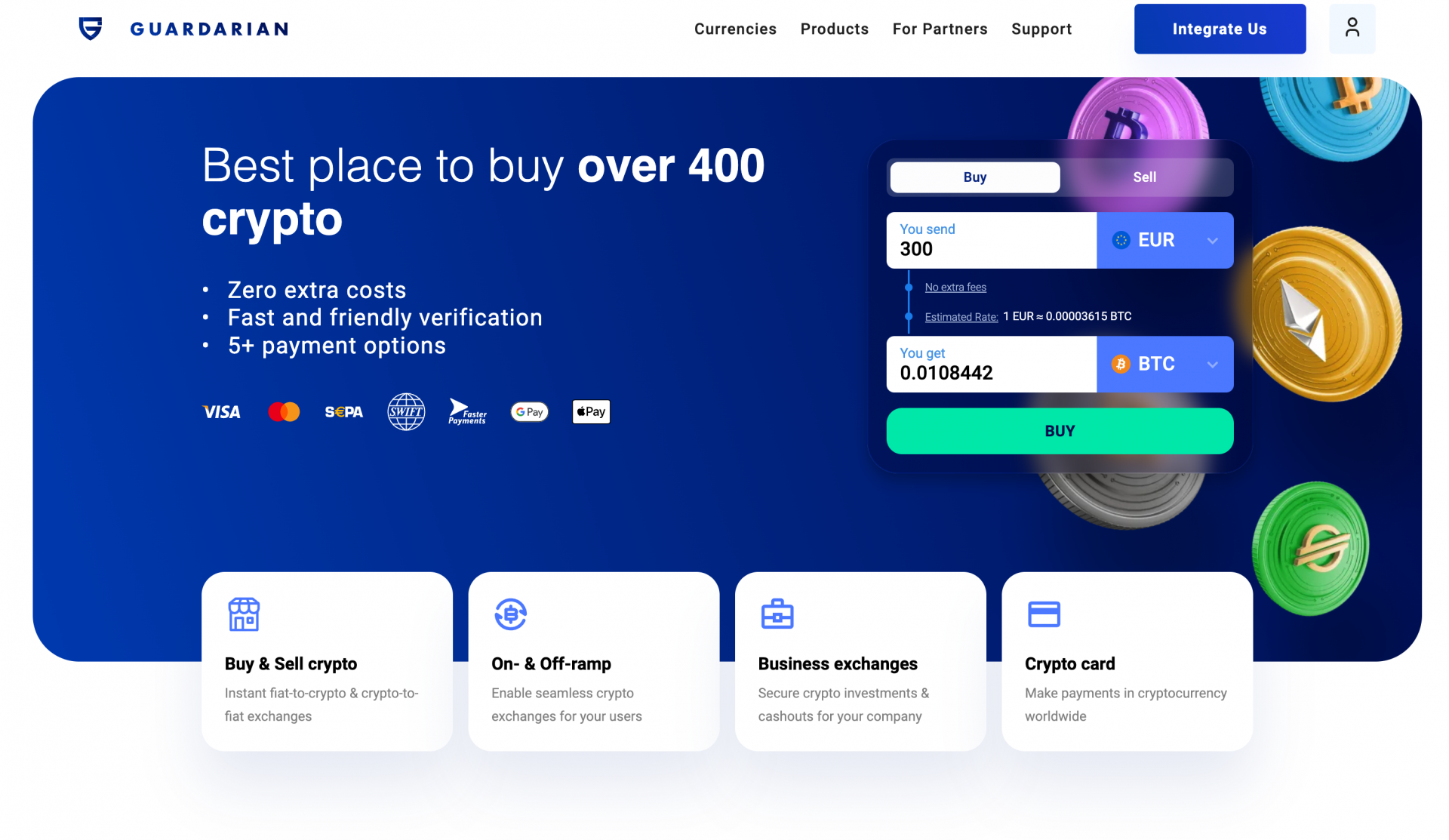 As a non-custodial crypto exchange platform, we make it easy to convert your fiat currency into crypto, including Volt Inu, without needing to create an account. All transactions through Guardarian are secure, with you remaining in control of your funds throughout the process.
With our platform, you have the option to buy and sell over 400 different tokens, using any major payment method. Guardarian is designed to be user-friendly, making it an ideal choice for both seasoned investors and those new to the crypto world.
How to Buy Volt Inu (VOLT) Instantly?
Purchasing Volt Inu on Guardarian is a quick and straightforward process:
Go to

www.guardarian.com

in your browser.

Select VOLT as the cryptocurrency you want to buy. Choose the fiat currency with which you want to pay.

Input your Volt Inu wallet address. This is where your tokens will be sent.

Complete the user-friendly and secure checkout process – no registration needed.

Once you've completed your transaction, simply wait for a few minutes and then check your wallet. Your newly purchased Volt Inu tokens should be there, ready for you to use.
With these easy steps, you can securely get your hands on Volt Inu tokens in no time.
Conclusion
In summary, Volt Inu is a dynamic and multifaceted project aiming to redefine the DeFi space. Its focus on creating a comprehensive ecosystem that offers a wide range of services from DeFi products to NFT collections, gaming integrations, and AI-driven utilities sets it apart from other cryptocurrencies.
And though it is always important to do your due diligence when making investment decisions, the upcoming projects and active development within the Volt Inu community certainly make it a project to keep an eye on.
Should you decide to invest into this project, we at Guardarian are here to support you. Offering a simple, secure, and swift way to buy Volt Inu tokens, we make the entry into the Volt Inu ecosystem as smooth as possible. Visit our website to get more information along with the best offers on 400+ cryptocurrencies.
Please note that this article is intended for informational purposes only and should not be considered as financial advice; always conduct your own research before making any investment decisions.