In terms of success within the crypto industry, Solana and Cardano are among the top tokens available on the market. Both are in the top 10 cryptocurrencies by market capitalization, both are known for the innovative use cases of their underlying blockchains, and both are very publicly visible.
Given that they are mentioned in the same crypto circles (usually as 'Ethereum Killers'), it would be easy to question whether Solana and Cardano are so different at all and if they are, which is better. But the truth is that every cryptocurrency is unique in its own way and has its own strengths and weaknesses. In this article, we'll be diving into the workings of Solana and Cardano and offering you a comprehensive comparison of the two.
Let's begin with… 👇
Solana (SOL) Explained
Considered one of the most innovative blockchains in the world, Solana is an open-source blockchain with a focus on Decentralized Apps (DApps) and Decentralized Finance (DeFi). Initially started in 2017 and formally launched in 2020, Solana is the brainchild of Anatoly Yakovenko, a software engineer, and Greg Fitzgerald, a former colleague of his.
What is Solana?
When Yakovenko first conceived of Solana, he considered transaction speed to be one of the biggest issues facing even the top blockchains. For blockchain technology to truly achieve its potential, it needed to be able to scale and to do this, it would need to be fast.

This led the Solana Foundation to design a blockchain that, unlike its predecessors, operated with a proof-of-history as well as a proof-of-stake consensus. The result of this is one of the fastest blockchains in the market that can handle a whopping 50,000 transactions per second which surpasses most others in existence.
How Does Solana Work?
As previously mentioned, Solana operates with both its proof-of-stake (PoS) and proof-of-history (PoH) consensus. The former allows network users to 'stake' their tokens which, in turn, allows them the right to validate transactions on the network. The latter, which has been pioneered by Solana, adds timestamps to every transaction that is validated by the network, essentially creating irrevocable proof that such a transaction took place at a certain time.
The use of these two consensus systems has meant that Solana can validate and confirm transactions at a virtually unprecedented speed and has made it a go-to for practical use cases by enterprises of all sizes.
Solana (SOL) Use Cases
With its scalability and speed, it comes as no surprise that Solana has found a myriad of use cases. For example, it is quite popular among NFT lovers, with such popular collections as Okay Bears and Thugbirdz minted on the blockchain. It has also amassed a loyal user base in the DeFi sector, with over $271.8m in assets locked on the chain as of 2023, which places it just outside the top 10 chains in terms of TVL.
And then there is its use for the development of dApps such as MetaSafari and Saber which span different industries. Its native SOL token also sees prominent use as a medium of exchange and a participation tool within various ecosystems. Those who wish to conduct transactions within the Solana network have to pay gas fees in SOL. And given that the network is based partially on a proof-of-stake consensus, SOL can also be staked to earn rewards.
Cardano (ADA) Explained
As we've said earlier, both Solana and Cardano are considered to be 'Ethereum Killers' but this is perhaps more apparent in the case of the latter. This is because Cardano was explicitly founded by a former member of the Ethereum team for the express purpose of competing with the blockchain.
What is Cardano?
Cardano was founded in 2017 by Charles Hoskinson, who is known for being the co-founder of Ethereum. Despite finding much success with his earlier venture, Hoskinson wanted to develop a blockchain that would be more environmentally friendly and have immense potential for the development of various applications.

The result of this was Cardano; a proof-of-stake blockchain that is notably eco-friendly and has been used in the development of a myriad of digital products. The native token of the Cardano ecosystem is ADA, named after Ada Lovelace, who is considered the world's first computer programmer. Cardano has undergone a hard fork in 2021 called the Alonzo hard fork which enabled smart contract capabilities on the network. Another hard fork, called Vasil, will be taking place soon. 
How does Cardano work?
Just like with Solana, Cardano relies on a proof-of-stake consensus which means that community members stake their tokens before they can validate any transactions. This system incentivizes validators to be diligent in their work as they could lose their tokens if they validate incorrect transactions.
This also means Cardano produces far fewer emissions compared to blockchains such as Bitcoin and (formerly) Ethereum. While Cardano was initially created due to concern about its energy use, Ethereum has since adopted a proof-of-stake mechanism as well. Additionally, Cardano ensures that all its technology and intended changes are peer-reviewed before approval. This is to make sure that only the best ideas are ultimately implemented.
Cardano (ADA) Use Cases
Cardano's native token ADA has proven itself to be a viable medium of exchange over the years, as well as a solid store of value. Just like with other cryptos, it can be used to pay for goods and services and can be traded or staked for a profit.
Its underlying blockchain has also found a plethora of uses, especially for the deployment of smart contracts following the Alonzo hard fork and for the creation of DApps. As NFTs achieved more popularity within and outside of blockchain spaces, Cardano was able to establish itself as a go-to blockchain for creators. And all this thanks to its relatively low transaction fees. It's TVL in 2023 sits at about $152,6, placing it at the end of the Top 20 blockchains in that regard.
You can check out our dedicated article about Cardano if you want to know more about the project.
Solana vs Cardano: Differences & Similarities
Solana and Cardano are often mentioned within the same crypto circles, having emerged around the same time and finding similar use cases. But how similar or different are these two tokens actually? Let's break it down: 👇
Key Differences Between Solana & Cardano
Solana famously uses both a

proof-of-history and a proof-of-stake

consensus, with the former marking time between transactions and the latter requiring validators to stake some of their own tokens to secure the network. Cardano, on the other hand, only uses the

proof-of-stake

consensus.

Cardano has all of its technology and intended changes

peer-reviewed

before implementation, while Solana does not have such a system in place.

Cardano

has a maximum

supply of 45 billion ADA

whereas

Solana does not have a maximum supply at all

. Instead, Solana increases its supply by 8% each year and this figure is subsequently reduced by 15% annually until it falls to a 1.5% yearly increase.

While

Solana

can, in theory, process up to

50,000 transactions per second

,

Cardano

can only process about

250

. However, both blockchains are significantly faster than Ethereum, which can only process around 30 transactions per second.
Key Similarities Between Solana & Cardano
Both Solana and Cardano run a

proof-of-stake

consensus, though Solana employs its proof-of-history consensus as well.

Both Solana and Cardano have been dubbed 'Ethereum Killers' due to their

speed

,

scalability

and

energy efficiency

.

Both Solana and Cardano have

smart contract

and

dApp

capabilities and this has granted them substantial popularity with blockchain developers.
SOL vs ADA: Brief comparison table
Here is a table comparing some of the main aspects of Solana and Cardano for your reference: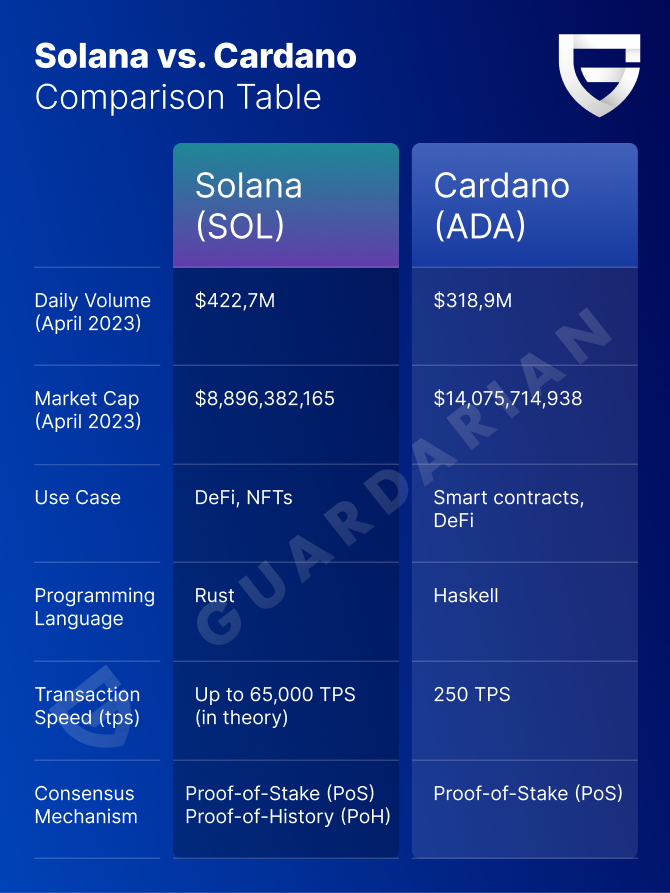 SOL vs ADA: Tokenomics
Solana (SOL) Tokenomics
As of the writing of this article, SOL has a price of $22.53 per unit. This is compared to its all-time price high of $260.06 which it saw in November 2021 and its all-time low of $0.5052 which it saw in May 2020.
Its 24-hour trading volume is $417,362,794 with a market cap of $8,850,588,186 and a circulating supply of 393,026,911 SOL. SOL is ranked #10 in the crypto market.
Cardano (ADA) Tokenomics
As of the writing of this article, ADA has a price of $0.4033 per unit. It has previously recorded an all-time price high of $3.0992 in September 2021 and an all-time low of $0.0173 in October 2017. Its daily trading volume is $325,929,322 with a market cap of $14,033,976,875 and a circulating supply of 34,802,305,447 ADA. ADA is ranked #7 in the crypto market.
SOL vs ADA: Price Prediction
Now that the differences and similarities between Solana and Cardano have been explained, it is worth comparing their current price predictions.
Solana (SOL) Price Prediction
SOL is currently trading at $25.23 per unit which represents the breach of a major resistance point and now, SOL bulls are eyeing the $30 resistance point. This spike in value can be partially credited to the migration of major projects like Helium and Render to the Solana network and market anxieties about increased interest rates from traditional banks.
Should these market conditions endure, it is predicted that SOL will climb towards (and possibly exceed) the $30 mark.
Cardano (ADA) Price Prediction
ADA is currently trading at $0.4399 per unit and has seen a price spike in the last few days. This can be credited not only to the ongoing crypto market rally but also to the release of LACE, its first-ever native wallet. ADA bulls are currently eyeing the $0.50 resistance point and should the ongoing rally continue, this could be achieved. Long-term, some analysts predict that ADA could pass the $3 mark by 2025.
Solana (SOL) vs Cardano (ADA): Which is the Better Investment?
While there is an inherent risk in investing in any cryptocurrency, there are a few things to keep in mind when considering investing in Cardano or Solana. First, consider that Solana has both a higher token unit value and a higher circulating supply as of the writing of this article. And while both blockchains have smart contract and DApp capabilities, Solana has a stronger presence in the NFT sector which could lead to long-term use cases.
On the other hand, Cardano has been in existence for longer and has secured a loyal community during this time. Its use of a peer-review system also means that over time, only the best innovations will be accepted and the network will continue to improve. With all these in mind, Solana may be considered a more outwardly profitable option but Cardano shows solid long-term potential.
Keep in mind that this is not financial advice – always do your own research (yes, DYOR) prior to investing into cryptocurrencies and make sure to only invest what you can afford to lose.
How to buy Solana and Cardano:
If you are looking for a simple and reliable way to invest into SOL or ADA, make sure to check out Guardarian.
For your convenience, we have a dedicated page where you can buy SOL, located here.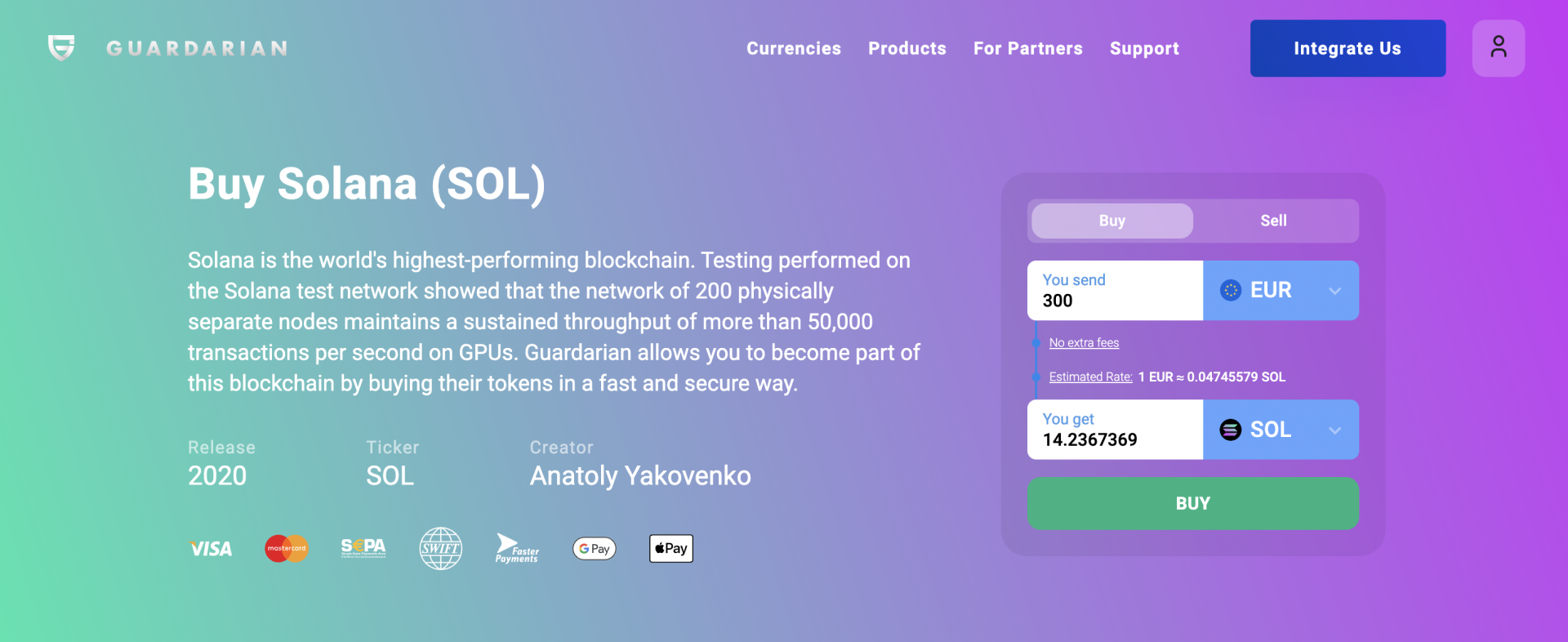 We also have a separate page for buying and selling ADA, located here.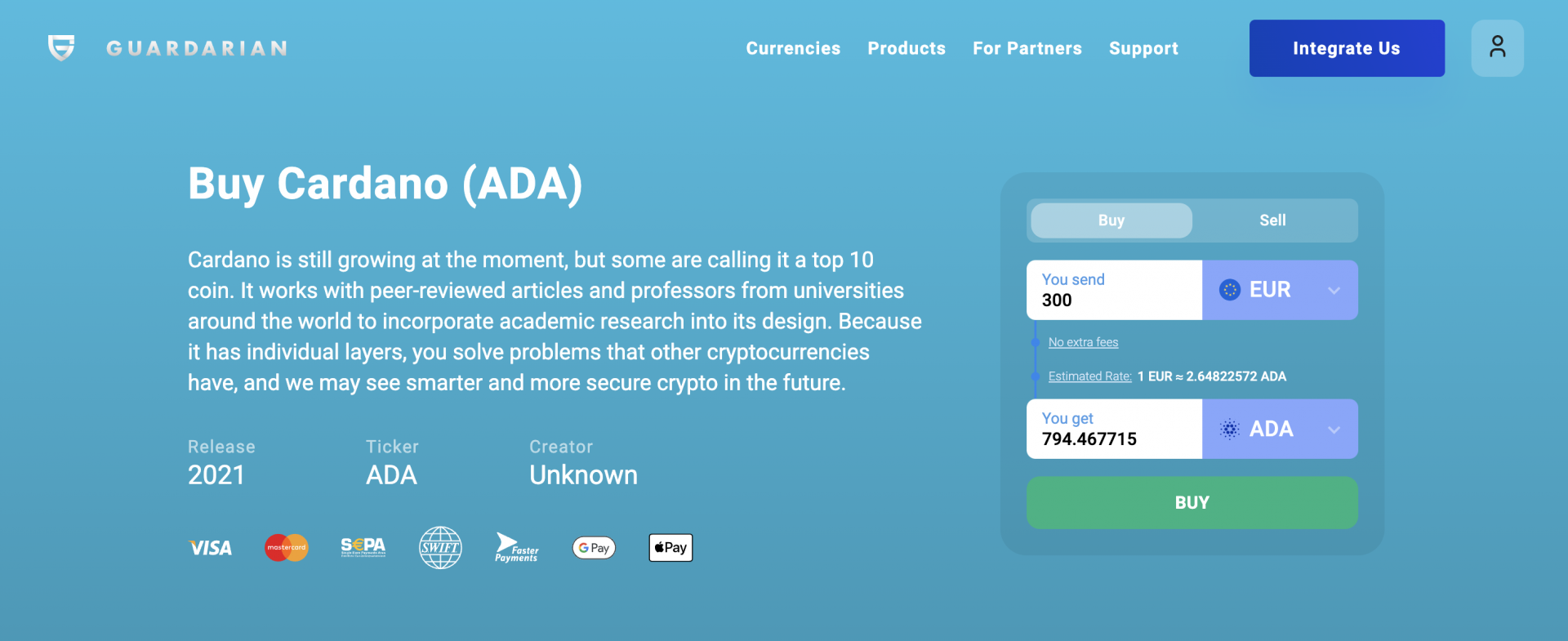 With us you can buy over 400 different cryptocurrencies securely & without registration. All transactions are non-custodial, meaning that we don't hold on to your funds, directing them straight to your wallet of choice instead.
The buying process is super-simple, accessible even to crypto beginners. It goes like this:
Go to

www.guardarian.com

.

Select the currency you want to buy (ADA, SOL, or any other crypto), enter the required amount, select the currency you want to pay with and click "Buy"
Enter your desired wallet address & choose payment method.
Complete our quick and intuitive checkout process, no registration needed!
Check your crypto wallet & we'll see you again soon!

😉
Conclusion
Poised to address the issues plaguing one of the most prominent blockchains in existence, Cardano and Solana have made their mark within the industry as two of its most scalable networks. From their low transaction cost to their fast speeds to their energy efficiency, the two have carved out a very specific niche within blockchain and will likely remain prominent for years to come.
Make sure to visit our website for the best rates on crypto exchanges & subscribe to our socials for the latest crypto news & updates. ✨