We are here to cover the decentralized blockchain platform Tron which has revolutionized entertainment and digital content sharing as we know it these days. 
It has been so successful in fact that over the past year, the platform's very own native token, aka the Tronix (TRX), has increased in price by a whopping 200% so far, and it doesn't seem to be slowing down anytime soon either. 
As mentioned previously, the main purpose of Tron as a platform is to become the go-to place for anyone that wishes to take part in free and global digital content sharing. It is different from the rest of the platforms out there simply due to the fact that it features the distributed storage technology that can not only cut costs but also make it easier for the users to share their very own digital content with ease on the blockchain. 
What drives the Tron
Tron was first launched back in 2017, and what really made it stand out at first was the fact that it didn't try to advertise any cryptography or anything of that sort on the open market. 
Instead, it decided to focus more on sharing its foundation with the rest of the world, including its use of smart contracts, delegated proof-of-stake consensus, and of course, its decentralized applications. 
All of this brought in an influx of users that to this day are still swearing by the platform's legitimacy and potential. The platform also publicized its founder and creator a lot, which is quite unheard of in the crypto community. Justin Sun has been very active with his community, debating the platform's aspects a lot over the years with its avid supporters. 
The platform really hit the nail on the head in 2018 though when the Tron Foundation, the non-profit development company that created Tron, decided to acquire none other than BitTorrent, the world-famous peer-to-peer content sharing platform. 
Another interesting thing to note about Tron is the fact that its designated coin used to be an Ethereum-based ERC-20 token in the past, but as the platform started to gain more and more traction, it soon became clear that it needed its own native token which led to the creation of Tronix (TRX). 
On top of that, Tron is also special in that it allows its users to create their very own tokens on the Tron network, which can then be used on their own decentralized apps. 
Since it is an entertainment platform, there will obviously also be a lot of game developers that will want to try out the platform's capacity too. Luckily, Tron has more than delivered on this promise, making any game that was created through their platform decentralized, meaning that the users could actually support the developers directly for creating the games that they enjoyed so much in the first place. 
In order to make sure that any and all transactions that are placed on the platform work as promised, the system is watched over by a delegated proof-of-stake consensus mechanism. 
In simpler terms, 27 super representatives will look over every and any transaction that takes place on the platform, all in order to make sure that it all went accordingly and that nobody lost any money in the process. 
These representatives are chosen every six hours or so, and for their services, they are rewarded TRX coins which entices them to continue to do their job properly. 
For the farmers out there, you should know that the Tron blockchain receives a new block every 3 seconds or so, and as you add it to the mix you will be awarded 32 TRX tokens. 
Recent Developments in Tron Ecosystem
TRON DAO joined hands with major blockchain players and launched its own algorithmic stablecoin, known as the "Decentralized USD" or USDD. In order to make sure that their own native token TRX doesn't get overrun, Tron DAO has also placed down a total of $2 billion to fund.
This all happened around May 11th as Tron decided to break the news to everyone by making a public statement over their decision, stating that the USDD stablecoin had been officially launched on the Multichain DEX. 
Why is this important to note? Because this means that now, all of Tron's users can bridge the stablecoin among the Ethereum, Avalanche, Fantom, and BitTorrent platforms. 
Tron's stable coin was meant to be Terra UST's major competitor, although this has been completely disregarded by now when UST lost its peg. As such, Justin Sun, the founder of Tron decided to take this time and allocate $2 billion to protect TRX. 
Also, TRON is experiencing rapid growth in DeFi and ranks as the third-largest blockchain in terms of TVL on-chain, trailing only Ethereum and BNB CHAIN.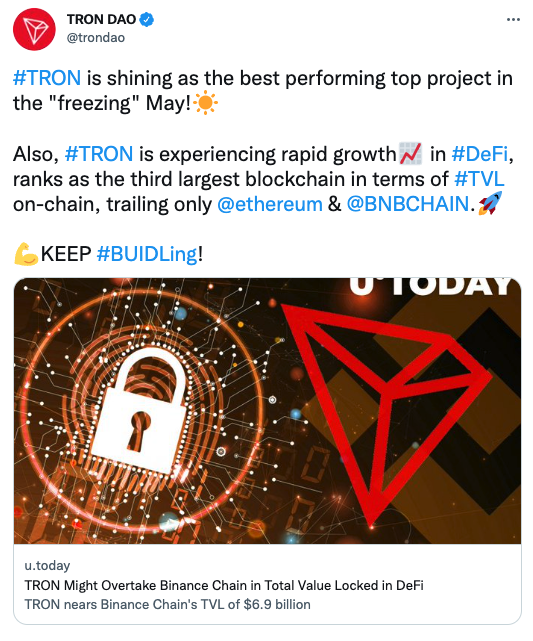 Conclusion
All in all, Tron has been on a steady rise over the past couple of years now and it doesn't seem to be slowing down either. If you want to check it out for yourself and get your hands on some TRX coins you can always do so through the Guardarian platform.