Ever since they first came out, meme coins have really had quite an interesting time on the market due to heavy social media attention that they have received. As cryptocurrencies are now on the road to become our daily financial assets these meme coins have found ways to going from simple practical jokes to serious investments.
While there is a general bias against investing in meme coins or altcoins, we are now going into the details of Hoge and finding out if a token of this high notoriety is worth looking into.  
What Is Hoge Finance?
There are plenty of odd choices out there when it comes to cryptocurrencies, but that has never deterred anyone from investing in them, so why should altcoins be different? Sure, Dogecoin might not seem like the best choice out there right now, but luckily, there is an alternative to it known as Hoge Finance. 
Never heard of it before? That's probably because it's a fairly new altcoin that hit the market on February the 7th, 2021. Despite having been out for a very limited amount of time though, it has managed to attract quite a large number of community members to the point where many have actually forgotten the fact that it is an altcoin to begin with. 
An altcoin is essentially just an alternative option to Bitcoin, including these "joke coins" with funny faces attached to them. You might have heard of several over the year like Dogecoin, Shiba Inu and Kishu Inu. While Dogecoin and others did see quite a surge in the first part of 2021, right now they are on the lower side of the market. Luckily however, thanks to options such as Hoge Finance we might finally see a comeback
The great thing about the Hoge Token is that it was actually released to the public with no tokens allocated to the team. What this means is that the whole project was meant to be a community-driven coin that would change the way we look at cryptocurrencies and specifically the way we look at altcoins. 
When it first started out, the company managed to offer a supply of 1,000,000,000,000 coins, with over 500 billion of them having been permanently burned at launch. 
As you can expect from a meme token, HOGE Finance prides itself with the fact that it is powered up by DeFi, which is decentralized finance for short.  As mentioned previously, it was started up by the community, for the community, with the most important names backing up the project being the following: 
Hogeman 

Joe Rocko

Florin Podaru 

Hunter Williams 

Andreea Mocanu 
With such a promising team behind it all it is no wonder that it quickly rose to the top, becoming one of the most profitable altcoins on the market, even overtaking some traditional cryptocurrencies along the way too. 
What is Hoge Coins' Mission?
The purpose behind Hoge Coin has always been the same one ever since they first got launched on the market, and that is to create a self-stabilizing marketplace in which everybody wins. 
While that may seem like an utopia to many, the truth is that it's not that hard to achieve it in the world of cryptocurrencies. In the real world such a concept is still impossible to comprehend, but the crypto world differs in this matter since everything is digitalized. 
Essentially, their plan is simple, they want to combine meme and frictionless yield farming to the best of their ability, making it so that through every purchase there is a token burn and everyone that holds a share from HOGE will be getting some profit out of it. 
So, the more the coin is used, the more money they all make. By simply integrating the coin on the market they can make sure that they always get a stable amount of money back from the system that everyone gets to partake in. 
While this system has been done before, this is by far the best attempt at it, since in the past it's always been destroyed by single-minded scammers that wanted to get people's money and then get out while they can. 
So far they've done a really good job, with even the forecast system stating that HOGE has become an amazing long-term investment if you're looking to make your money back over the following years. 
While it does offer great returns for its initial price, you do need to understand the fact that as time moves on so does the price of it all. So if you're looking to invest into a coin, you either need to be quick about it or you can find yourself in a similar situation as most people did when Bitcoin first came out. 
The price can skyrocket overnight which is why it's always best to search out relatively new coins and explore them in case their value increases tenfold over the course of time as it has done many times over in the past. 
How Does Hoge Finance Work?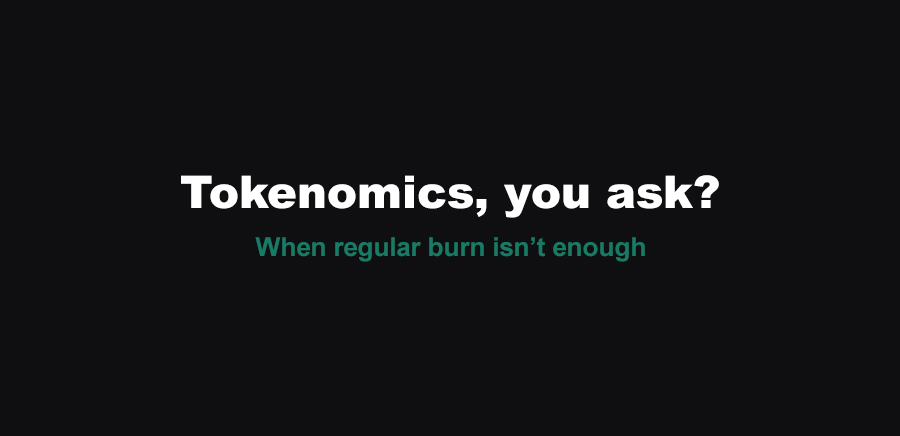 Essentially Hoge Finance is all about the community's exchanges. As mentioned previously, they specialize in token burning and redistribution, meaning that they just release the Hoge token into the wild and as people continue using it for transactions, they get a share of that profit. 
A pretty interesting fact about it is that the creators of HOGE actually pride themselves with the knowledge that they based their tokens on a burn wallet system. What this means is that instead of seeing the tokens gradually decrease in price over the marketplace, the deflationary tokens will be burned instead, making them one use only. 
Removing any chance of retrieval for the tokens was a smart move as this can help the token have a longer life on the market without it eventually being nulled out by continuous usage. 
So, just to recap, the more the community uses the token, the more money the shareholders make, and with every usage the token is sent to a burn wallet, never to be seen again. With a total of over 1,000,000,000,000 tokens on the market they also ensured the fact that they won't be running out of resources anytime soon either. 
Memecoin Communities 
While there are plenty of other meme coin projects in the world, very few have managed to reach the same level of social media presence as Hoge Finance has. It is a very new coin that just hit the market, and yet it's already garnered quite a large community to back it up by now. 
It has employed in several different heavy community marketing techniques which have helped it stand out from the crowd, including the following: 
They create memes about their token which have become viral overnight 

They offer educational videos to help you understand how altcoins work 

They created a series of mobile apps that can help you be a part of the community 

They recently partnered up with USA Today 

They created a space program which has actually had promising results so far
That final part is actually especially important because it has become one of their milestones already. While many would argue that the premise behind Hoge is rather overplayed and idealistic, their execution so far has been flawless and they have yet to find any road bumps that they couldn't simply drive over. 
Hoge Space Program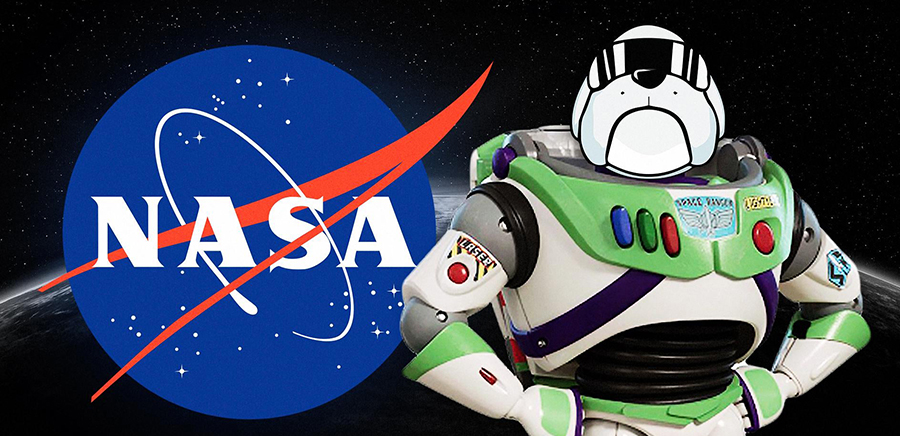 When it comes to their Space Program, the team behind Hoge decided to make a public announcement in which they stated that they had founded a small space program with the focus of developing a CubeSat platform to send out crypto technologies into space. 
As they continue onwards with this plan of theirs, if proven to be successful it will very easily result in the team having created one of the most profitable cryptocurrencies on the market. 
Hoge NFT Marketplace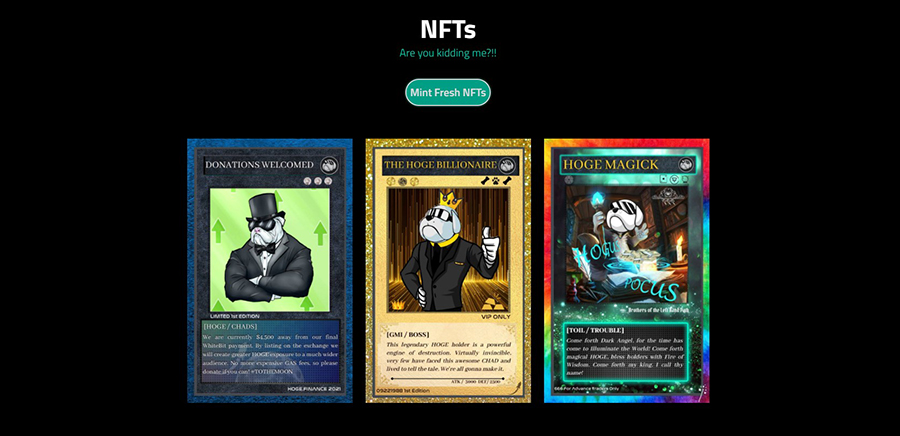 On top of it all, they've also integrated themselves into the NFT market, planning out successful NFT minting events which have supported the trading of meme cards on the market. 
The prices of NFTs as a whole have skyrocketed well over a billion dollars over the course of 2021  and are becoming favourite assets for collectors to acquire. It appears as though Hoge Finance have really made a good move in getting involved with NFTs as they have attracted a lot of eyes to them while hosting these events. 
How to Buy Hoge? 
As we speak, the price of a single Hoge coin is of $0.000100 with a total return rate of 2.63% for every purchase. While this may not seem like much, we urge you to remember the fact that the coin has just been launched and despite this many people have already heavily invested in it. 
Metamask + Swap Exchange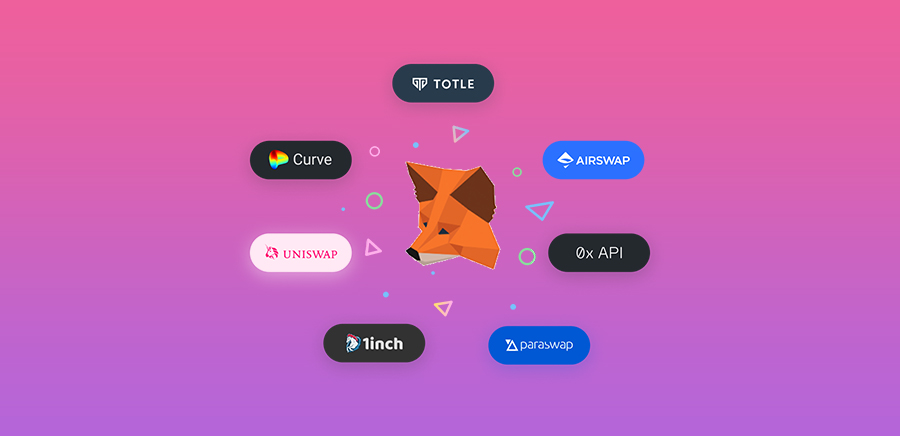 If you wish to get into this new craze and buy yourself some Hoge Tokens this is how you can do that: 
Download Metamask 

Buy some Ethereum through Binance, Kraken or Coinbase 

Transfer it to your wallet 

Visit hogefinance.com 

Type in this following token address: 0xfad45e47083e4607302aa43c65fb3106f1cd7607

Go to Uniswap and set the slippage to 2.5% or alternatively 3% 

Swap your Ethereum for some Hoge

Add your token address to Metamask to see your Hoge coins
You can also look into exchanges that are specifically designed to sell these sort of cryptocurrencies like Buy Meme Coins, which is an exchange that allows anyone from anywhere in the world to buy the hottest fun assets, including Hoge. Delve into their website to seek out more.
Buy Hoge On Guardarian With 50+ fiat pairs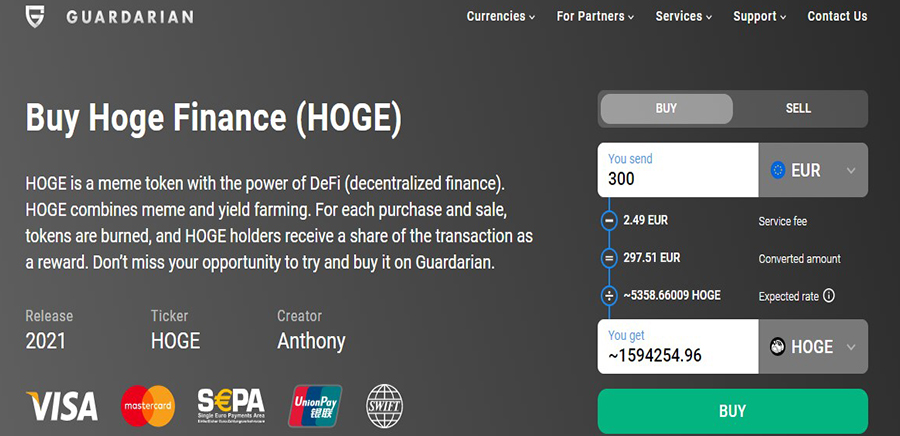 Alternatively, if you don't want to use Uniswap you can also use 1inch, Pancakeswap or by far the best option in the bunch, Guardarian. The reason is simple – we offer the best rates on the market and have integrated Hoge Coins to our website to exchange with over 50+ fiat currencies (inlcuding USD, EUR and GBP). You can always be assured that we have it available to purchase, simply choose your fiat and where you would like to receive your $HOGE when purchasing. Go over to our page dedicated to the fantastic Hoge Finance.
Conclusion 
Whether you're a crypto fanatic or maybe a very enthusiastic newcomer to the realm of digital currencies then you should already be familiar with Dogecoin and other dog-faced, meme-loaded assets. Hoge prides itself with its zero ego and community-driven agenda to make them a valuable place in your digital wallet, so consider exploring further into their project.