Here at Guardarian, we've always been trying to bridge the gap between real people and the world of crypto.  
And today we are making another monumental step towards achieving this goal by adding a very special product to our lineup of crypto solutions!
We are very excited to announce the launch of G-card: Guardarian's new prepaid crypto card! 🥳🎉
Let's take a look at the features this new card has and how it can help you get more out of your crypto! 👇
Available in the EU
The card is now officially available to order for all you EU citizens. 🇪🇺
And if you live outside the European Union – do not worry! We are already working on adding more regions to the list, so make sure to follow our socials to know when the card will be coming to a place near you. 😊
Doorway to global purchases
G-card offers an entirely new way to use your cryptocurrencies. Powered by Visa, it opens the door to global purchases. 🌐
This includes both physical locations – like restaurants and shops, as well any online vendors accepting Visa payments. Just top it up with crypto of your choice and use it as a regular bank card anywhere in the world!
And speaking of topping up with crypto…
Choose between plastic & virtual card
Depending on your needs, you may choose between the plastic or the virtual version of G-card.
With the plastic card you can make ATM withdrawals and in-person purchases, for example in stores or restaurants. In addition, you can use it for online transactions, just like you would with a regular card.
And if you mainly need a card for online use, you can get a virtual card. With it you can make online purchases and worldwide money transfers with ease. And the best part – you can register and start using it in less than 10 minutes! 💨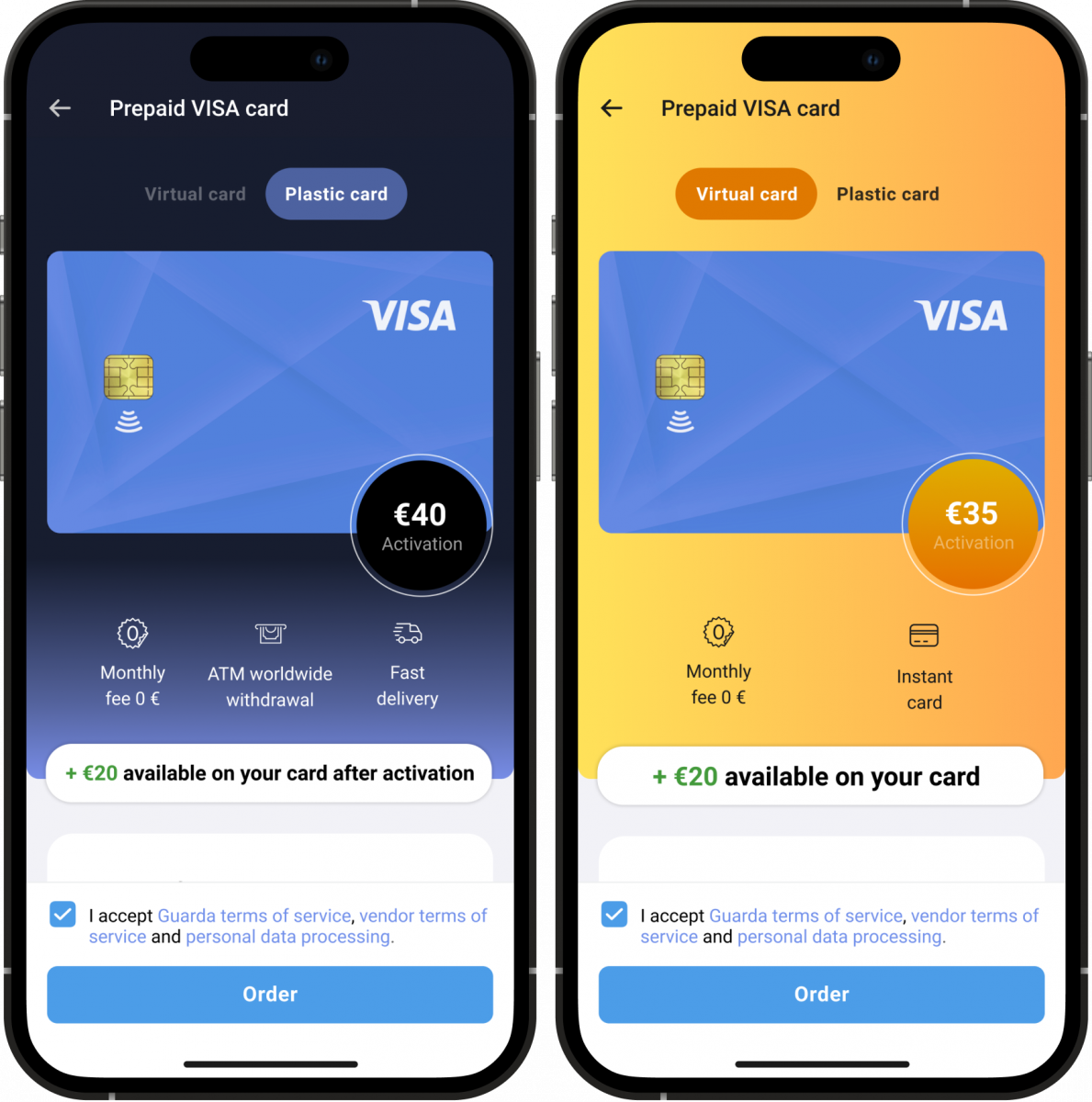 Pay how You want
Our aim with this new card is to give you as much versatility as possible. That's why it supports 22 different cryptocurrencies from the start! You can top up your card with any of the following currencies:
XDC

USDC

Dai

Tron

Tether

XRP

Polkadot

Litecoin

Ethereum

Eos

Ethereum Classic

Bitcoin

Bitcoin Cash

Cardano

Firo

Atom

Aave

Dogecoin

SHIB

BUSD

Bitcoin SV

Kudoe
Of course, we aim to increase this list in the future, so make sure to stay connected to know when your favorite crypto gets added too.
Feature-packed crypto wallet
Along with the crypto card, our mobile app provides you with a fully functional crypto wallet. With that you can:
Store and manage

your crypto assets in a safe and convenient way

Buy & sell

over 400

different cryptocurrencies

Exchange

your crypto at the best rates possible
The fees for other services are also minimal, never exceeding the 2.5% mark.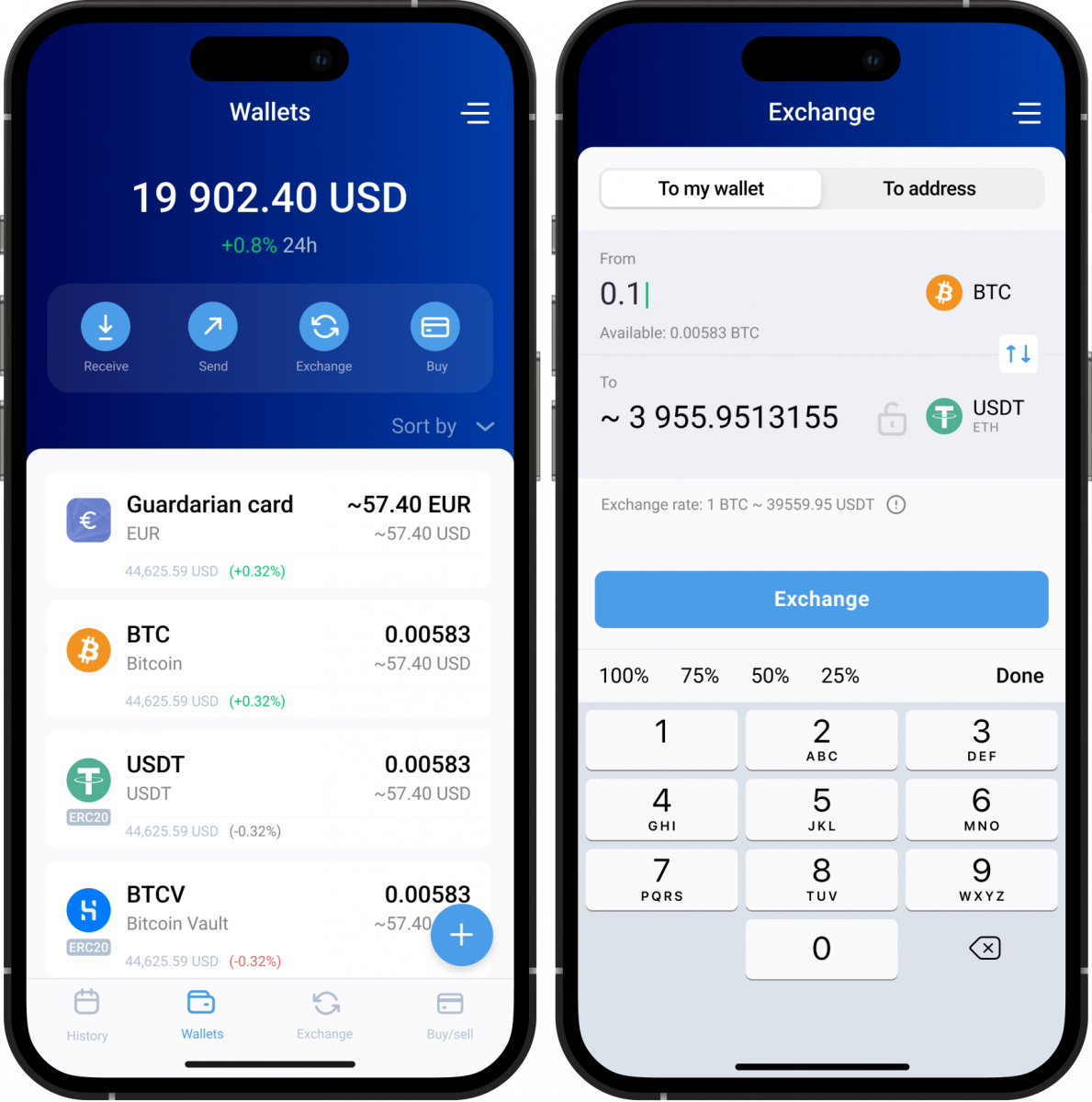 And of course, with Guardarian wallet you can top-up your G-card anytime, anywhere!
Low Fees & Extra benefits
G-card offers some of the lowest fees around. The transaction fees begin at 0$ and are always flat – while your spendings grow, the fees don't! Topping up your your card is also super cheap, with only 0,5% fee.
If you are still having doubts, here are some extra perks we offer to help you decide:
After ordering, you will receive your card in no time with our fast shipping. 💨

After activating your card, you will receive a €20 bonus 🤩

Top-up and manage your G-card through our easy-to-use app😌
Order your G-Card today!
Follow these 3 simple steps to obtain your own crypto card already today:
Download our app from

Google Play

or

App Store

Order your card from the app 
Activate the card and enjoy your crypto payments!
As easy as that – your own crypto card is really just a few clicks away! ✨
For more info visit our designated G-card page.