Established in 2014, DigiByte (DGB) is one of the more experienced players in the cryptocurrency space. It's not just a simple digital coin, but a comprehensive, decentralized blockchain solution. DigiByte emphasizes speed, security, and scalability for digital transactions and decentralized applications.
This article will explore the technology behind DigiByte, its various uses, and its investment potential. We aim to provide you with a thorough understanding of DigiByte's position in the market and its prospects for the future, aiding you in making an informed decision about its potential for investment.
What is DigiByte?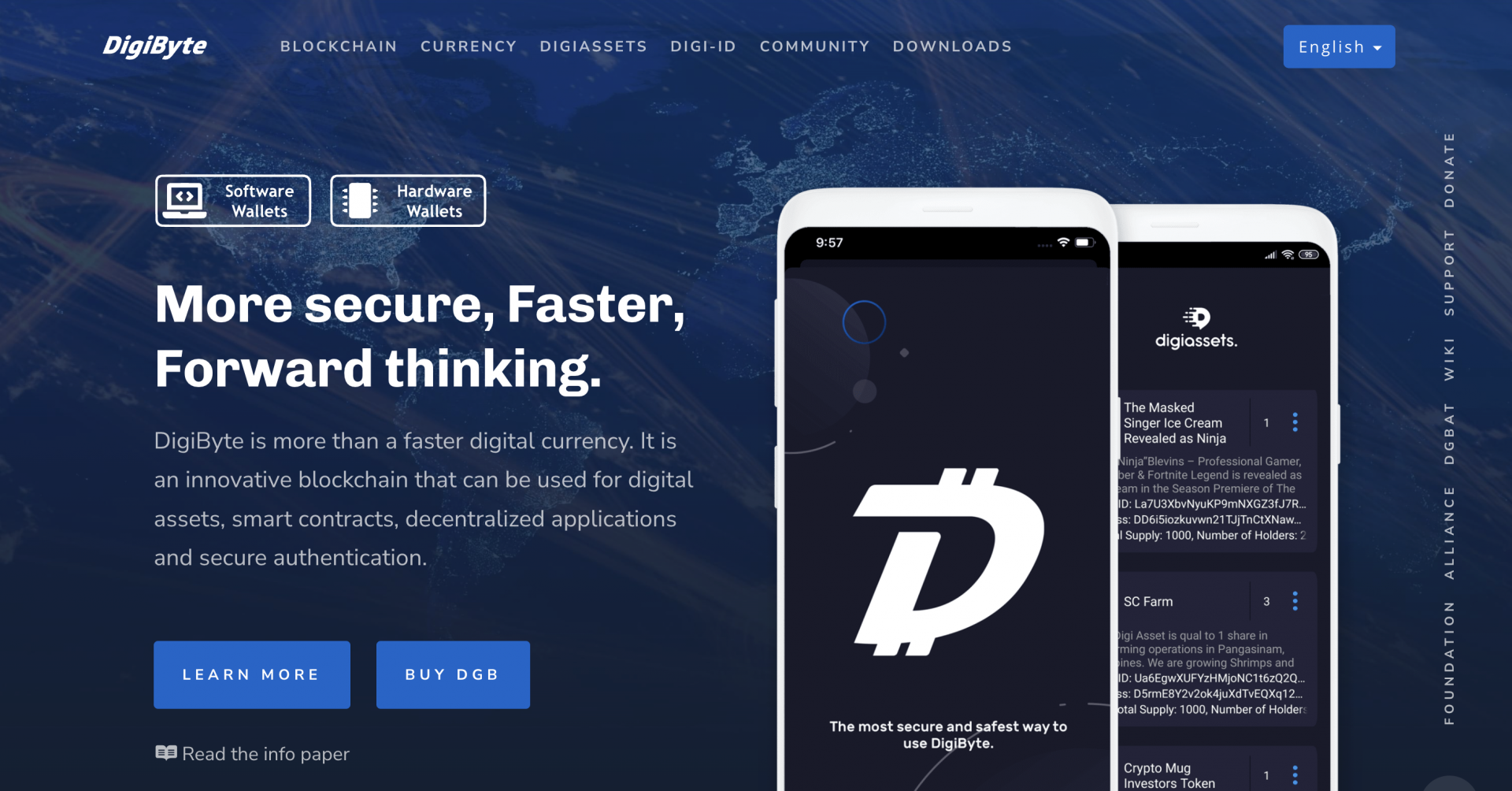 DigiByte is an open-source blockchain and cryptocurrency. It was developed in 2013 and launched in January 2014 by Jared Tate. Unlike many other cryptocurrencies, DigiByte emphasizes speed, security, and scalability. With blocks occurring on the network every 15 seconds, compared to 10 minutes for Bitcoin, DigiByte's network is significantly faster and more efficient.
Who Created DigiByte?
Jared Tate, an early Bitcoin enthusiast since 2012, founded DigiByte in 2014 after identifying areas for improvement in the Bitcoin core protocol. Beyond DigiByte, Tate is known for his contributions to the blockchain community, having spoken at institutions such as MIT and Harvard.
He also co-authored "Blockchain 2035 The Digital DNA of Internet 3.0," making him the first blockchain founder to pen a book. The dedicated DigiByte team, comprised of passionate and unpaid volunteers, further emphasizes the project's commitment to innovation.
What is DigiByte used for?

DigiByte provides a quick and secure method for sending and receiving payments globally in as little as 15 seconds. However, Its utility goes beyond just being a cryptocurrency. Its blockchain provides a highly secure environment for the development of decentralized applications (dApps), smart contracts, and secure authentication methods.
How does DigiByte work?
DigiByte operates on its UTXO-based blockchain, similar to Bitcoin. However, it distinguishes itself with a shorter block time and a multi-algorithm mining system, which contributes to its security, decentralization, and accessibility.
DigiByte also introduced SegWit (Segregated Witness) early on, which helps to keep its blockchain lean and efficient by separating transaction confirmations from the information stored within the block itself.
DigiByte employs a three-layered structure that ensures its fast performance:
1. Applications / DigiAssets
The top layer resembles an app store, supporting digital assets creation, decentralized applications (dApps), and smart contracts on the DigiByte blockchain.
2. Digital Asset / Public Ledger
Serving as a security and administrative layer, this immutable ledger records all DigiByte transactions. The security is enhanced with five proof-of-work algorithms, with new DigiByte introduced exclusively through mining.
3. Core Protocol / Global Network
The foundational layer facilitates communication across the DigiByte global network. Every device connected to this network, be it a computer or mobile phone, acts as a node, assisting in transaction relays.
Lastly, DigiByte is open-source and permissionless, allowing users to run and modify the software. The code is available for review on GitHub.
Market Performance of DGB
| | |
| --- | --- |
| DGB Price (August 2023) | $0.007962 |
| Trading Volume (24h) | $1,794,045 |
| Market Cap | $130,725,512 |
| Circulating Supply | 16,418,622,587 DGB |
| Total Supply | 16,418,622,587 DGB |
| Market Rank | #171 |
| All-time high | $0.1825 (May 2021) |
As of July 2023, DGB, the native token of DigiByte, is priced at $0.007962. Boasting a market capitalization of approximately $130.7 million, it stands at the 171st rank among cryptocurrencies in terms of market capitalization. Over the past 24 hours, DigiByte has recorded a trading volume of nearly $1.8 million, showcasing active engagement in the market. With a circulating and total supply of 16,418,622,587 DGB tokens, DigiByte has ensured a comprehensive distribution to its community. The all-time high for DGB was recorded in May 2021 at $0.1825. These metrics emphasize the sustained relevance and interest in DGB within the broader cryptocurrency landscape.
DigiByte Price Predictions
It's essential to note that while cryptocurrency price predictions can be based on thorough analysis, they remain highly speculative and subject to market volatility. That said, here is what popular price prediction platforms say about the future potential of DGB:
DGB Price Prediction for 2023
For 2023, predictions from DigitalCoinPrice forecast the price of DGB to range between a minimum of $0.00710 and a maximum of $0.0173, with an average figure hovering around $0.0167.
On the other hand, Priceprediction.net suggests a more narrow and slightly optimistic range, with the minimum price set at $0.009, an average at the same $0.009 mark, and a potential peak at $0.010.
DGB Price Prediction for 2025
Moving on to 2025, DigitalCoinPrice projects a more bullish stance, predicting DGB's price to oscillate between $0.0234 and $0.0289, with a median estimate of $0.0284.
In contrast, Priceprediction.net paints a slightly more conservative picture, estimating the token's value to lie between $0.018 and $0.022.
DGB Price Prediction for 2030
By 2030, both prediction platforms expect substantial growth for DGB. DigitalCoinPrice anticipates the cryptocurrency's value to range from $0.0776 to $0.0833, centering on an average price of $0.0820.
Priceprediction.net is considerably more bullish, expecting DGB to trade between $0.12 and $0.14.
These long-term forecasts, although speculative, suggest a sustained positive trajectory for DGB, echoing the optimism shared by many in the crypto community regarding the token's future.
Is DigiByte a Good Investment?
DigiByte has demonstrated stability and adaptability in the volatile cryptocurrency market. It has a history of introducing technological improvements, such as DigiShield and early adoption of SegWit, indicating a proactive and responsive development approach.
Price predictions for DigiByte are positive, and while the broader crypto market is also expected to grow, DigiByte's unique contributions to the industry differentiate it. For instance, its innovations, like MultiShield and MultiAlgo, have been integrated by other blockchain projects, showcasing its significance in the sector.
Investors should note that all investments carry risks. While DigiByte's consistent performance and innovations are notable, thorough research is essential before making investment decisions.
Where to Buy DigiByte?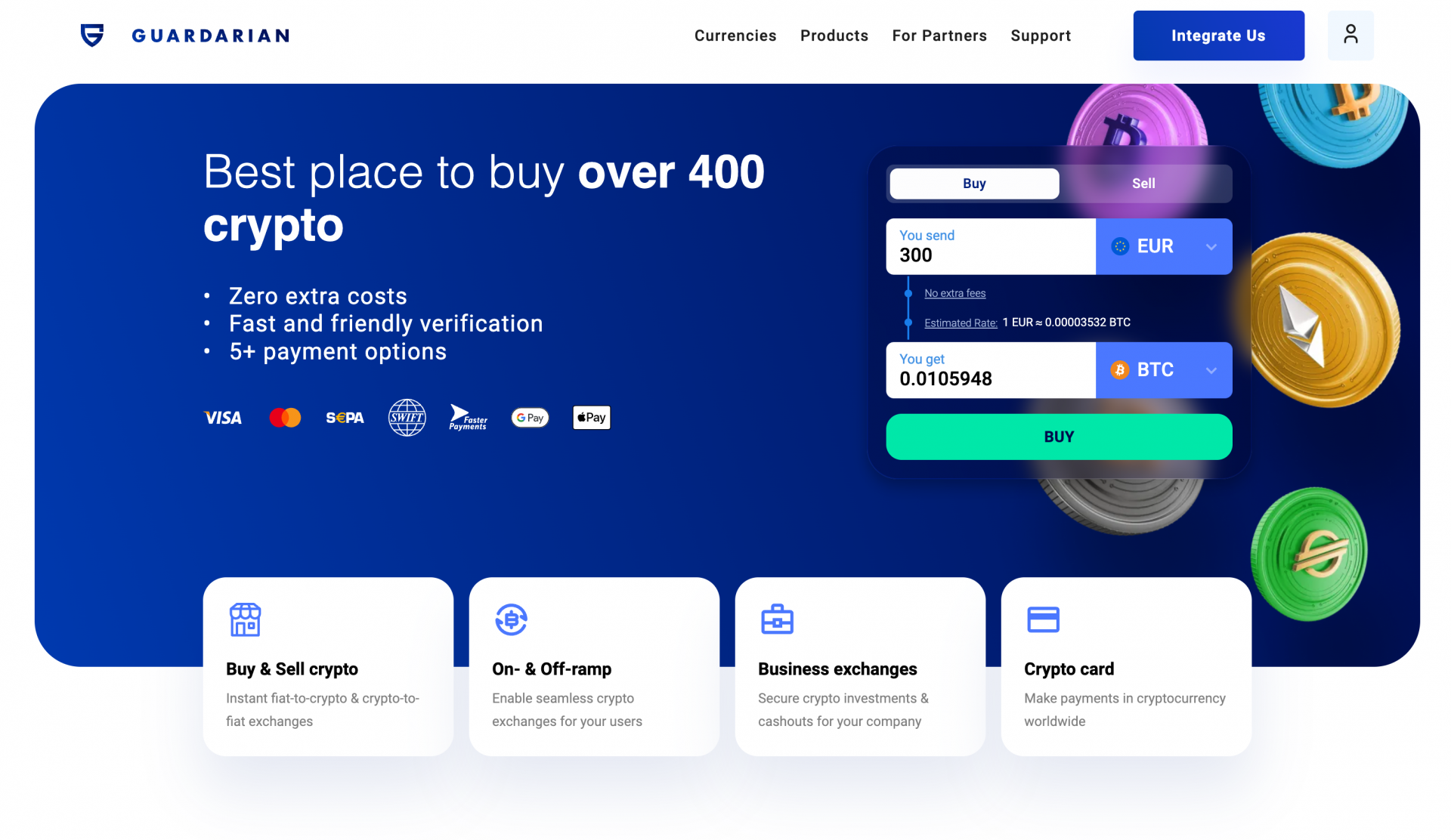 Thinking of investing in DigiByte? Thanks to its long-standing reputation, many platforms offer it. But if you're looking for a straightforward, fuss-free experience, we recommend you check out Guardarian.
On our platform you can buy & sell DGB instantly, without any registration. That said, we guarantee the security of your funds through non-custodial transactions. Plus, we've got your back with all the major payment methods and some of the lowest fees around.
How to Buy DigiByte Instantly on Guardarian?
Buying DigiByte on Guardarian is straightforward. Here are the steps:
Go to www.guardarian.com.

Select the currency you wish to exchange for DGB.

Input the amount you want to spend.

Provide your DGB wallet address where the tokens will be sent.

Complete our easy checkout process & receive your assets in no time!
Alternatively, you can visit our dedicated DigiByte page for live market data, more information and an even more intuitive DGB purchasing experience.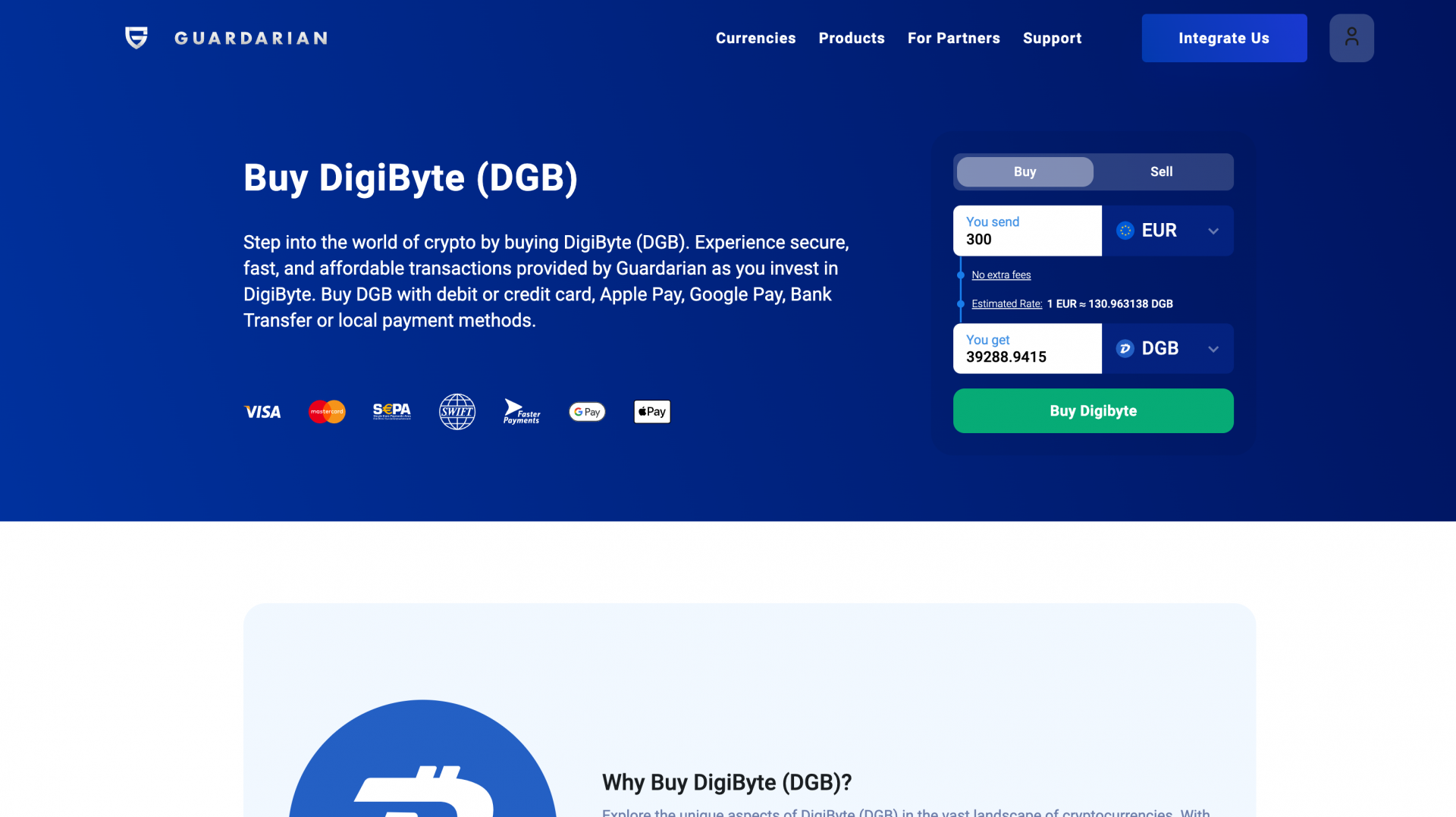 Conclusion
DigiByte has consistently demonstrated its value and adaptability since its inception in 2014. Its commitment to innovation and unique features like DigiShield and SegWit adoption mark it as a distinguished player in the crypto realm. The optimistic future projections reinforce its potential as a noteworthy investment.
And if you are considering adding DigiByte to your crypto portfolio, make sure to try Guardarian, a platform that combines security with efficiency. Making informed investment decisions is crucial, and when it comes to facilitating those choices, we guarantee an outstanding purchasing experience.
The information in this article is for informational purposes only and should not be construed as investment advice. Always do your own research and consult with a qualified financial advisor before making any investment decisions. Investing in cryptocurrencies carries inherent risks, and past performance is not indicative of future results.