Choosing a reliable and trustworthy platform is essential when purchasing cryptocurrencies using traditional fiat currency. There are multiple options for this, including fiat onramps which provide an easy and convenient way for individuals and businesses to enter the cryptocurrency market.
These services usually have a simple process that will enable you to enter your card information and the amount you want to purchase. Then the service will automatically convert your fiat currency into the desired cryptocurrency.
In this article, we will briefly discuss what are Fiat On-ramps (also called Onramps) and Off-ramps (also called Offramps). We will then look at the top 7 fiat on-ramps for crypto in 2023.  
Let's get right to it!
What is Fiat Onramp and Offramp?
On-Ramp refers to converting traditional fiat currency (such as US dollars or European Euros) into cryptocurrency. You can use fiat on-ramp crypto service through various providers, including cryptocurrency exchange, peer-to-peer platforms, or services that allow you to purchase cryptocurrency directly using a debit or credit card.
Conversely, Off-Ramp refers to converting cryptocurrency back into fiat currency. Similarly, you can do this through various methods, including cryptocurrency exchanges, peer-to-peer platforms, or services that allow you to sell cryptocurrency for fiat currency.
Some On-ramp services will require you to create an account with them, after which you can proceed with your conversions or transactions. Others allow for instant conversions, without needing to register.
Top 7 Fiat OnRamps for Crypto in 2023:
With the increasing adoption and mainstream acceptance of cryptocurrencies, there are now a variety of fiat on-ramps available to choose from. Here are the top fiat on-ramps for cryptocurrencies in 2023: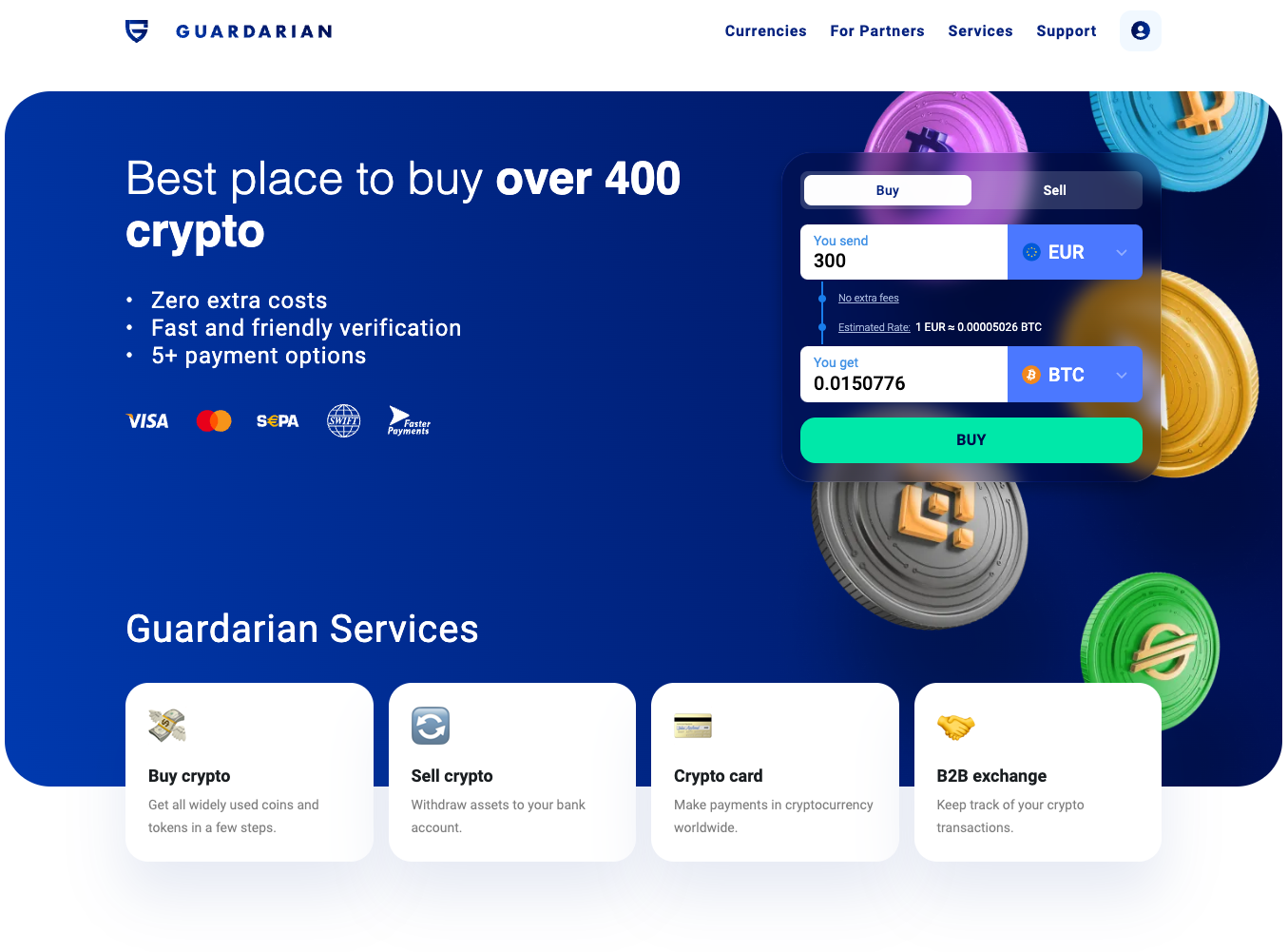 Guardarian is a bridge between the fiat and crypto worlds that guarantees the best user experience for buying and selling crypto. Users from 170+ countries can purchase cryptocurrencies using all the major payment methods.
Guardarian offers the biggest choice of cryptocurrencies and is known for its low fees, user-friendly interface and excellent customer support.
Key Features: 
400+ cryptocurrencies with 40+ fiat options.

Lowest rates on the market

Fast KYC Process 

Buy/Sell Crypto without registration 
2. Moonpay 

 
Moonpay is a popular crypto-to-fiat on-ramp, allowing users to purchase over 80 crypto assets, easily and securely.
The platform's fast and secure transactions are possible using advanced security measures such as SSL encryption and two-factor authentication. Users can purchase cryptocurrencies using all primary payment methods, including Visa, Mastercard, Apple Pay,
Whether new to cryptocurrency or an experienced trader, Moonpay is a reliable and convenient platform for purchasing and using cryptocurrencies.
Key Features: 
Tools for businesses.

Convenient purchases

Integrations with crypto apps.

Transak: 
3. Transak
Transak is a London-based cryptocurrency exchange offering a fiat on-ramp for UK and EU users. The platform allows users in the UK and EU to purchase cryptocurrencies using their credit or debit card easily or through bank transfer. This makes it easy for users to enter the cryptocurrency market and use digital assets for various purposes. It settles transactions through a widget interface without keeping track of the user's data or funds.
Key Features: 
Supports 130+ cryptocurrencies.

Easy integration with Web3 platforms.

Available in 125+ countries.
4. Simplex 
Simplex is among the best fiat on-ramps in the market due to its wide accessibility and support for many cryptocurrencies. It is a top choice for many users looking to purchase cryptocurrencies using credit or debit cards quickly. With numerous partner integrations and support for 170+ cryptocurrencies, Simplex allows users in over 100 countries to purchase cryptocurrencies using their fiat currency securely.
Its global accessibility and comprehensive support for a wide range of cryptocurrencies make it the good choice for users looking to enter the crypto market.
Key Features: 
Swift payment processing

Secure and reliable.

Simple to use.
5. Paybis 
Paybis is another popular fiat on-ramp service in the cryptocurrency industry. It allows users in over 180 countries to easily purchase cryptocurrencies using their credit or debit card or bank transfer. As a top fiat on-ramp, Paybis enables users to seamlessly exchange their fiat currency for a wide range of cryptocurrencies. 
Paybis is a payment processing platform that is both quick and safe to use, and it also provides a user-friendly interface that is simple to navigate.
Key Features: 
Low commissions.

Round-the-clock support.

Worldwide access.
6. Indacoin 
Indacoin is a cryptocurrency exchange that allows users to purchase various cryptocurrencies, including Bitcoin, Ethereum, and Litecoin, using their debit or credit card. The platform acts as a fiat on-ramp, providing users with an easy and convenient way to buy cryptocurrencies using their traditional currency.
One of the main advantages of using Indacoin is that it is easy to use, even for crypto beginners. The platform has a simple and user-friendly interface that makes it easy to navigate and purchase. In addition, Indacoin supports a wide range of payment methods, including Visa, Mastercard, and Maestro, making it accessible to many users.
Key Features: 
Global access.

Simple and easy to use.

Many payment options.
7. Banxa 
Banxa is a payment gateway that allows online merchants to accept fiat currency payments from customers. The company's fiat on-ramp service enables users to purchase cryptocurrencies such as Bitcoin and Ethereum using their credit cards or bank accounts.
One of the main benefits of using Banxa is its convenience. The company has partnerships with various payment processors and financial institutions, which means it can offer its users different payment options. This makes it easy for customers to find a payment method that works for them, whether they prefer to use a credit card, bank transfer, or another way. It is currently available in over 100 countries. 
Key Features: 
Quick business integration.

Convenient.

Available in 100+ countries.
The Takeaway
When selecting a fiat on-ramp, it's essential to consider factors such as fees, available payment methods, and supported cryptocurrencies. Knowing the risks associated with purchasing and trading cryptocurrencies is also necessary as thoroughly researching any platform before using it.
While financial authorities regulate fiat on-ramps in most countries, which helps ensure the safety and security of user funds, it's important to choose a reputable and trusted platform. Some fiat on-ramps may not be as secure as others or may have higher fees, so we recommend comparing different options and reading reviews before using them.