The decentralized finance (DeFi) space continues to evolve with the emergence of many new coin projects. These DeFi coins are reshaping the delivery of financial services worldwide by employing smart contracts and decentralized networks to eliminate inefficient intermediaries like banks. 💪
The two main reasons why many new DeFi projects keep appearing are:
Popularization of DeFi platforms – these are more open and transparent than traditional financial services when it comes to lending, borrowing, trading etc.
Increasing interest in blockchain technology – blockchain offers a secure and transparent way to record and transfer value.
One DeFi project that is getting a lot of traction right now is the Feed Every Gorilla (FEG) coin. Sounds very cool indeed. 😉  In many respects, FEG is a one-of-a-kind asset shared by thousands of individuals. With the introduction of new products like FEGEx, the FEG ecosystem continues to solidify itself within the DeFi space and becomes more valuable to the crypto community. 
If you have never heard of the FEG coin before, don't worry! In this article, we will deep dive into the FEG coin, discussing its unique features and price predictions for the years to come! 👇
What is FEG Token?
FEG is a progressive deflationary  DeFi coin that aims to revolutionize decentralized finance. Even though FEG is a new entrant to the crypto space, it is persistent in its efforts to achieve commercial relevance.
FEG Token's basic concept is to provide people all around the globe access to a decentralized transaction network. 🌐 The FEG project runs on both the Ethereum blockchain and the Binance Smart Chain. Consequently, the FEG project's native token supports two variants: ERC-20 and BEP-20. 
FEG's ability to function across many chains makes it a highly adaptable asset that users may use in various DeFi deployments. With a well-defined goal in mind and a strategy, FEG is well-positioned to reach widespread use. 
Managing market swings, perfecting the ability to drive adoption for FEG Exchange, and incorporating benefits from its SmartDeFi Launchpad are all key to the FEG Token's commitment to growth. FEG is a one cryptocurrency project with a roadmap that leads some investors to become FEG supporters.
Who created FEG Token?
The FEG project's pseudonymous primary developer, FEGrox, is responsible for creating FEG.
FEGRox portrays himself on his website as "a mysterious and highly trusted blockchain expert with countless years of experience whose efforts are helping evolve the decentralized finance (DeFi) infrastructure" and has a relatively active Twitter account with over 40,000 followers.
He says, "100% of […] time and focus is on making FEG Token the face of DeFi!"
FEG Coin Features (Tokenomics)
The FEG network is constantly adding new features to maintain its status as one of the fastest growers on the market. The FEG ecosystem features a DeFi exchange where users can trade, stake, and liquidate their FEG tokens. The FEG cryptocurrency is a viable long-term project because of its unique roadmap and community support. Some investors believe that FEG may experience a massive price surge in the upcoming months due to its recent listings on major cryptocurrency exchanges and the support of community investors.
FEG's hyper-deflationary token status is one of its defining features. As more and more tokens leave circulation, the token supply naturally declines. The Ethereum blockchain and the Binance Smart Chain cap the total number of FEG in circulation to 100 quadrillions. The project's architects intentionally limited the supply of FEG from the get-go to demonstrate that it is, in fact, a deflationary token. As part of the project's token burns, upon launch on both chains, the project burnt 50 quadrillion tokens by delivering them to an inaccessible wallet.
Moreover, every FEG holder receives a benefit from the project without any additional action on their part. All FEG transactions are subject to a transaction tax of 2.00%, effectively shared equally among all FEG holders. 
Each holder gets a fixed number of shares according to their FEG token holdings. Moreover, the redistribution scheme incorporates the burn wallet. As more transactions occur, not only do the token holders amass a larger number of tokens but also experience deflation as many tokens get burnt.
Eventually, when the total number of FEG in circulation shrinks, the token will become much more rare, which could boost its value. FEG advocates a supply and demand model based on such a connection. The project has no limit on the total number of tokens that users can burn.
FEG Coin Features Summarized:
🌐

Decentralized: Due to its decentralized nature, the token has no central custodian. The community's interest guides every decision.

🔥

Burn rate: Each transaction has a 1% burn rate, gradually reducing the available FEG supply.

🏆

Rewards: FEG offers its holders a 1% fee on each transaction to deter those with weak hands.

🏗️

 Future development: To ensure the token's long-term sustainability, FEG plans to continue penetrating the cryptocurrency market by releasing several new products.
FEG Price Predictions:
FEG has a vast ecosystem of products that eventually sustain the value of its native coin. Data from the network suggests thousands of individuals are holding FEGtoken and have no intention of selling. This makes many holders believe in the promising future of FEG. 
The fact that FEG is a hyper-deflationary token with a constantly declining supply is also good news for investors expecting a future increase in the value of FEG. Currently, FEG is undergoing an update that will improve the FEG ecosystem and make it more appealing to potential investors. 
However, since FEG is not the most popular currency, investors will likely need to depend on a long-term plan when investing in the FEG project.

 
CryptoPredictions FEG Price Predictions:
Experts from CryptoPredictions do not have high hopes for the FEG cryptocurrency. They predict a 50% increase in FEG's earnings in the first year and a 266% increase in the next four years. They expect that by 2023, the highest price that FEG coin will ever reach on the market will be $0.00000000082776 (+50%). In 2026, its highest possible price will be $0.000000002014389, up 266% from now.
PricePrediction FEG Price Predictions 2030:
According to PricePrediction's calculations, the value of the FEG coin has tremendous potential to rise to new heights. At its peak in value by 2030, they predict FEG will have increased by 1,718%, reaching roughly $0.00000001. They expect the maximum FEG crypto price for 2031 to be $0.00000002 (+3,536%).
Telegaon FEG Price Predictions 2040:
Most crypto analysts have a bullish outlook on the cryptocurrency price in the long run. Predicting the future of crypto for an extended period, like 10–20 years, is very challenging. However, other industry insiders, such as Telegaon, predict that by 2040, the maximum price of a single FEG coin might reach $0.000032 (+5,818,081%), making this prediction one of the most bullish in the crypto market. The website's analysts also predict that in 2050, the price of one FEG coin may reach a whopping $0.05 (+9,090,908,990%).
FEG Coin Price Chart:
Here is the coin price chart for FEG coin from its launch date till the time of writing of this article:
Is FEG Token a Good Investment?
Considering its latest developments, FEG token has all the chances to keep rising in the upcoming years. But in order for that to happen, If the team behind FEG has to stick to the roadmap and keep delivering their promises. If the existing ecosystem expands, there is a lot of room for DeFi innovations in it. For instance, SmartDeFi has the potential to revolutionize the FEG market since purchasers would have access to risk information in advance of any trading. If the team behind FEG uses the appropriate approach, it can easily surf the crypto waves, making it a suitable investment for long-term crypto investors. 
How to buy FEG tokens?

 
There are multiple ways to buy FEG Token in 2023. However, if you decide to invest into FEG, we recommend using Guardarian for that.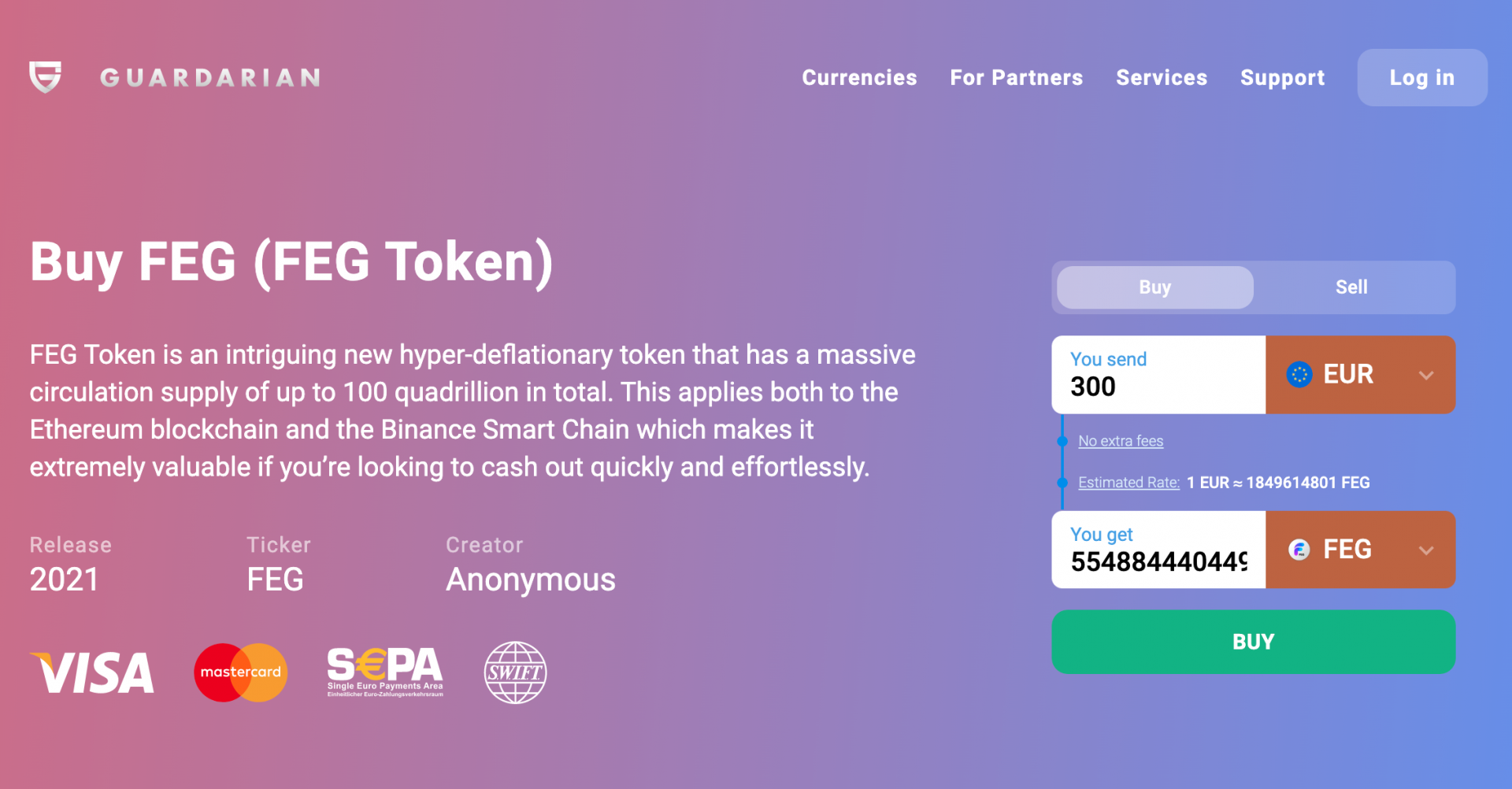 The easiest to invest into FEG is by visiting our dedicated FEG Token page. Just choose how much FEG you want to buy (or sell), which currency you are using and click "Buy". After that you will be taken through a short and simple checkout process, and your tokens will be on their way to your wallet in no time!
In addition to FEG Token, with Guardarian you can buy over 400 other cryptocurrencies with the following benefits: 
Lowest fees on the market – we make sure our fees stay as long as possible to stay competitive
Non-custodial service – we do not store your assets – they get directed straight to your wallet of choice
No registration required – our simple checkout is available for you instantly, no accounts or passwords
The Takeaway – Future of FEG
FEG aims to reshape and improve the decentralized financial system by offering a comprehensive ecosystem. It has It has all the chances to experience serious growth in the future with the expansion of its ecosystem and help from its supporters and investors. However, it is still a young project and it is difficult to predict where it may end up in a couple years. We are looking forward to seeing what it will develop into in the years to come.
The information provided in this article is the authors opinion and not an investment advice. There is always the risk of seeing your investment go down in value due to price fluctuations. Make sure your portfolio aligns with your investment objectives and risk tolerance by reviewing it regularly and investing only money you can afford to lose.